ANDY JAMES War March Transcend Music (2011)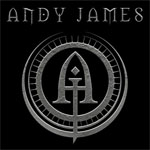 Andy James has long been held with reverence in metal/shred circles and is well known for his teaching videos via the Lick Library website.
After a shaky solo start and with a couple of albums under his belt ('In The Wake Of Chaos' and 'Machine') James now occupies the guitar position with metallers Sacred Mother Tongue.
Fans of that band and no-nonsense guitar metal in general will lap this up. It's shred-wank from start to finish and will certainly fuel the chattering classes on the six string fora. For everyone else it's very hard going.
For me - as with many solo guitar albums - it is a triumph of technique over any emotion. James does play well and this is streets ahead of many contenders, but all too often an attractive melody or steady riff is sacrificed for the next bit of widdle. When, as on the mid-tempo 'Separation' or 'What Lies Beneath', the guitar appears to emulate a synth - smooth, honed and airbrushed - it is no wonder that this reinforces the overall emotion-lite experience.
Arguably, James' contemporaries like Marco Sfogli and Andy Timmons stack up a higher EI quotient and in this respect James is closer in spirit to Paul Gilbert or a less fusiony Tony MacAlpine. But for teenage lads fingering Kerrang! and Total Guitar this is an aural wet-dream of what might just be possible before they hit their 30th birthday if they don't burn themselves out through excessive use of their right hand.
***½
Review by David Randall
---
| | |
| --- | --- |
| | Print this page in printer-friendly format |
| | Tell a friend about this page |