AMY LASHLEY Travels Of A Homebody (2011)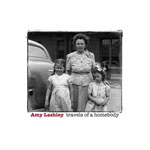 The sad thing about this outstanding Americana album by Amy Lashley is that you'll almost certainly never hear it performed live. Because, self admittedly hypersensitive and prone to stage fright and panic attacks, Amy now avoids performing, instead focusing on creative writing and recording. Which is a damn shame, because in this crowded marketplace she's clearly a massive talent.
The album is a reflective look at family life growing up in a small town in a mid West, Indiana, farming community. It's a story of innocence, hardships, aspirations, self depreciation and dreams. And apart from the gentle innocence of the song writing, there's a marvellous supporting cast in the form of Thomm Jutz (guitar, bass, dobro, mandolin and organ), Shadd Cobb (fiddle), Mark Fain (upright), Pat McInerney) drums and Otis Gibbs (guitar, production and partner).
Each and every song has a wonderfully restrained and understated feel with Amy's vocals having the same sort of timbre and delivery as Natalie Merchant at her finest.
Be it the more mainstream material like the bluesy Happy-O or Kiss Indiana Goodbye (with its acoustic guitar underscored by subtle organ work and a song structure Mary Black would die for), the ragtime blues of Who Am I Kidding, or the more traditional blues of Homebody Blues, Travels Of A Homebody is a magnificently absorbing listen.
And in no small part that's down to Amy's wonderful vocals, which are some of the most effortless, unforced and enthralling that I've heard in recent times.
It all adds up Travels Of A Homebody being one of the classiest albums you'll hear this year. Well worth investigating by anyone who enjoys folk, country, Americana or the more mainstream space occupied by the like of Natalie Merchant. Innocently breathtaking.
****½
Review by Pete Whalley
---
| | |
| --- | --- |
| | Print this page in printer-friendly format |
| | |