Just witnessed your best live gig?.. send us a review!
ALICE COOPER, 100 Club, London 26 June 2011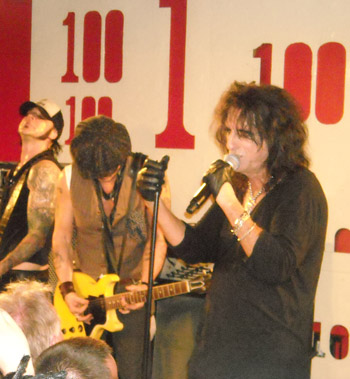 Alice Cooper was in town to play his first ever club gig in thirty years at the tiny 100 Club in London's Oxford Street. Tickets sold out in seconds and you needed to pay Monopoly money prices if you wanted to snap one up off Ebay. A lucky 250 people were treated to a very special show on a hot summer's evening and inside the venue the sweat was dripping down my spine even before Alice had made an entrance.
Stripped of his usual stage theatrics this was an Alice Cooper show which had a garage days revisited vibe about it. Joining Cooper in his band was guitarist Steve Hunter who originally joined Alice's band in 1973, staying for five years performing on such albums as Billion Dollar Babies and Welcome To My Nightmare.
Not only did we get the classic hits one would expect at an Alice gig but it was also a joy to hear some great cover versions that as Alice said on stage were songs the original Alice Cooper band used to play in the clubs when they first started.
The Yardbirds 'Train Kept-A-Rollin' steam rolled the show into action, a real killer riff ''That song is still a beast of number'' proclaims Cooper before sending the 100 Club into a frenzy with his own classics 'Under My Wheels' and 'No More Mr Nice Guy' after which Alice threw his cane to a lucky fan.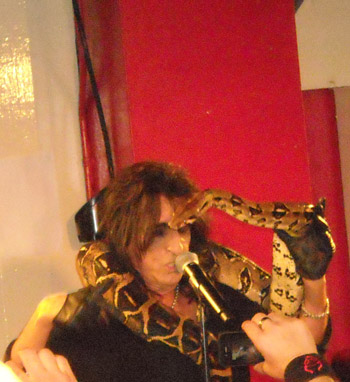 For 'Is It My Body' a roadie handed Alice a real live boa constrictor snake which happily slivered it's body around Cooper's neck. Alice happily serenading to the snake begging for a kiss.
'Here's a song I wrote for the Rolling Stones' smiles Alice with a nod and a wink and 'Brown Sugar' was another treat for tonight. '' I still don't know what brown sugar is'' smirks Alice.
The rocking 'I Bite Your Face Off' gave us a sneak preview of the forthcoming 'Welcome 2 My Nightmare' album followed by 'Muscle Of Love' and 'Cold Ethyl' which sounded great in such intimate surroundings.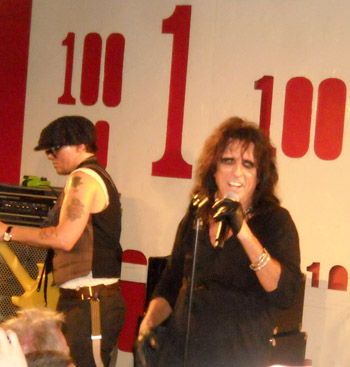 More of Cooper's influences came in the shape of Beatles 'Back In The U.S.S.R' and the Kinks 'You Really Got Me' which was more true to the original than the one performed by Ray Davies himself just a day before up the road at Hyde Park when he was supporting Bon Jovi.
The real big surprise of the evening came when Alice said that he'd like to invite a guest on stage, none other than film star Johnny Depp who played guitar on 'I'm Eighteen' and 'School's Out'. Depp who played mainly with his head down was happy for Alice to be the star of the evening.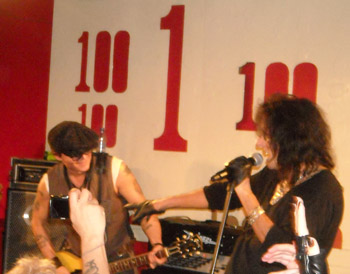 With the euphoria on a high, Alice won himself more votes with 'Elected' ending the hot and sweaty night with covers of the Animals 'We've Gotta Get Out Of This Place' and a rousing version of Jimi Hendrix's 'Fire'.
With that Alice leaves the stage walks straight out of the side fire exit and follows Depp into a waiting limo and disappears into the Soho nightlife.
Alice Cooper may have a young man's brain and an old man's heart but tonight he showcased that he is still the ultimate performer either in the clubs or in the arenas. I loved it to death.

Set List : Train Kept A-Rollin' / Under My Wheels / No More Mr Nice Guy / Is It My Body / Brown Sugar / I Bite Your Face Off/ Muscle Of Love / Cold Ethyl / Billion Dollar Babies / Back In The U.S.S.R / Poison / You Really Got Me / I'm Eighteen / School's Out / Elected / We've Gotta Get Out Of This Place / Fire

Review and photos by Mark Taylor
---