Just witnessed your best live gig?.. send us a review!
AC/DC Live At River Plate Premiere
Hammersmith Apollo, London 6 May 2011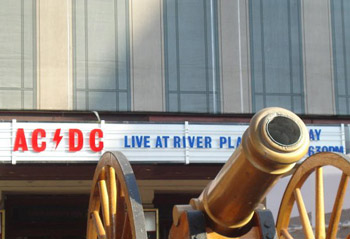 ---
I was lucky enough to grab a quick word with both Malcolm and Angus Young. I asked them whether we will see another album and tour and the answer was ''Yes''.

---
I think it's fair to say that AC/DC are the biggest heavy rock band on the planet right now. The band have sold over 200 million albums worldwide, 22 million alone for the seminal 'Back In Black'.
After an absence of eight years AC/DC returned with their fifteenth studio album 'Black Ice', an album that went on to sell nine million copies and hit the number one spot in an amazing 31 countries.
The 'Black Ice World Tour' saw the band go on a mammoth tour around the world including North America, Europe, Oceania, Asia and South America starting in Pennsylvania USA in 2008 ending on a hot sunny night in Bilbao Spain in June 2010, a total of 108 cities in over 28 countries.
The tour was the third highest ever grossing tour bringing in some $442 million dollars finishing just behind the Rolling Stones and U2. Yes sir, AC/DC are one of the biggest global brands you can find.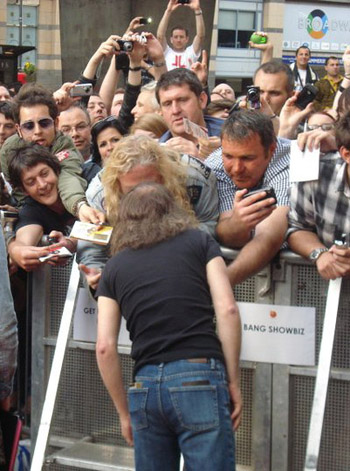 Tonight see's the European premiere of their new live DVD 'Live At River Plate' recorded over three sold out nights in December 2009 in Buenos Aires Argentina in front of some crazy enthusiastic 65,000 fans per night after an absence of some thirteen years from the country.
AC/DC have chose to premiere the DVD at one of their spirtual homes. AC/DC regularly played at the Hammy O on all tours leading right up to the 'For Those About To Rock Tour' in '82 before the arenas beckoned.
They also played a special one-off here to promote the 'Live At Donington 91' DVD in 2003 , a colossal gig that I was lucky enough to experience. AC/DC also played their first ever UK gig in Hammersmith way back in 1976 just a few hundred yards up the road at the Red Cow pub (Now known as the Latymers.)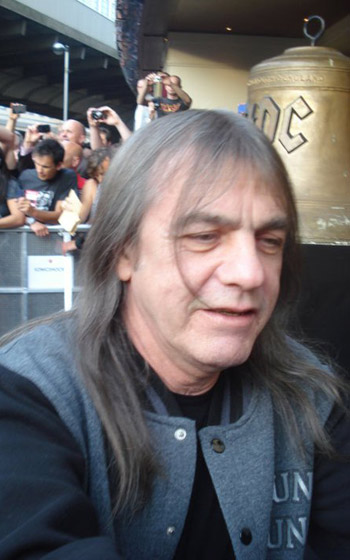 Many fans had won free tickets through numerous competitions to be here this evening and there was excitement in the air as the band were to make a personal appearance too. Outside the Odeon, two cannons were standing guard with the 'Hell's Bell' proudly on show at the doorway.
Unlike most premieres where a red carpet is the only way for V.I.P's to make an entrance, there is a special 'Black' carpet with the red AC/DC logo emblazoned on it.
Stereophonics frontman Kelly Jones was one of the first up the carpet, who was so influenced by AC/DC that he too favours the cherry red Gibson SG guitar that is used by Angus Young.
I got to ask Kelly what his favourite AC/DC memory was and he said ''That I use to dress up like Angus as a schoolboy.'' and that his favourite album is ''Powerage.''
It was complete pandemonium when AC/DC arrived on the carpet with fans clamouring over the security gates trying their best to snap a photo of their heroes or to grab a prized signature.
All the band were here except drummer Phil Rudd who had to stay at home in New Zealand to be with his family after their home was recently damaged in the typhoon that struck the country.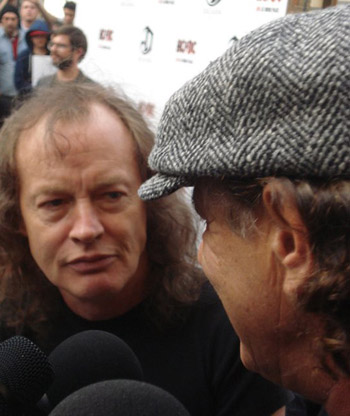 I was lucky enough to grab a quick word with both Malcolm and Angus Young. I asked them whether we will see another album and tour and the answer was ''Yes''.
I also mentioned that the Rolling Stones and Chuck Berry are still going, how much longer can AC/DC do it?
''We're doing just fine'' affirms Malcolm Young whilst Angus gives me the big thumbs up when I mentioned Chuck Berry.
A big hero and influence of his, if it wasn't for Berry there would be no duck walk for Angus. The band are back in the studio and hope to have an album released within the next two years. There's still plenty of high voltage in the band yet.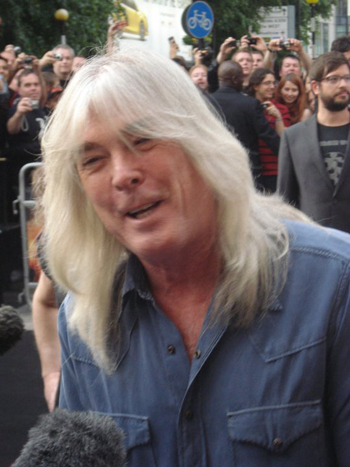 Inside the Odeon before the film started there was a hilarious video from Ozzy Osbourne saying how much he admired the energy of the band, whipping up the frenzy of the Odeon with cries of ''AC/DC,AC/DC,AC/DC'', followed by the band walking on stage to make a little speech before they took their seats. A little surreal that AC/DC were sitting down at Hammersmith watching AC/DC in concert.
It was like being at a real concert with the volume turned up to a maximum, the concert footage is impressive filmed with the use of 32 HD cameras.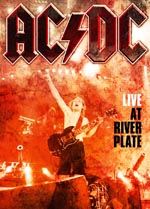 Directed by David Mallet who has also worked on many previous AC/DC videos including the magnificent 'Live At Donington' as well as many of their recent promo videos. His work also includes Queen, U2, Rolling Stones and David Bowie.
---
The DVD is the must have souvenir for anyone who saw them on the 'Black Ice' tour, you can almost feel Angus' sweat covering you watching this.


---
Inside the stadium in Buenos Aires the crowd are going nuts from the off with heads bopping up and down all the way to the back singing along to every word. Hell they were even singing along here at Hammersmith too.
The footage is exhilarating and if you been unfortunate enough not to have seen the band before, once witnessing this you'll be first in the queue next time tickets go on sale.
The whole mammoth set is included with some of the biggest classic rockers you'll ever hear in your life.
Inflatable Rosie and Angus withering around on the floor one moment then running up the full ramp that stretches way out into the crowd without missing a note.
Brian Johnson is the lovable frontman who has established himself the perfect partnership for Angus just as much as Bon Scott had done many years before. With a perfect rhythm section AC/DC are the tightest, most formidable band in the world. A winning formula that they have stuck to for many years that leaves many in the dust.
The DVD is the must have souvenir for anyone who saw them on the 'Black Ice' tour, you can almost feel Angus' sweat covering you watching this.
This rates as one of the most spectacular live DVDs I've ever seen for which I must give AC/DC a 21 gun salute. Tonight , Hammersmith Ain't A Bad Place To Be. It was 'El Monumental' indeed.
Review by Mark Taylor
Photos by Neil Jones
---