25 YARDS SCREAMER Until All Are One (2011)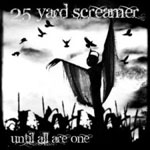 It's something of a travesty, and mystery, how this band from Carmarthenshire, South Wales remain unsigned. Especially after their last album - Cassandra (2007), which we described here at GRTR! as 'classic rock of epic proportions'.
The third album from the powerful three piece - Nick James (guitars/keyboards/vocals), Matt Clarke (bass) and Donal Owen (drums) - has been a while coming, and finds the band's sound shifting towards the heavier side of their playing.
Past efforts have been very much, in style, a pastiche of Hogarth era Marillion meets Rush. On Until All Are One both ends of that spectrum have been pushed out taking the melodic parts, and in particular Nick James vocal passages, back into Fish era territory and beyond - more than once Mick Stubbs and Laurie Wisefield's Home springing to mind.
But it's the other side of the band's modus operandi that has perhaps seen the greatest transition - yes, the proggy switching of gears is still present, but when the band kick into overdrive the riffs that you might previously have associated with Rush have moved up to the super heavyweight class of the likes of Metallica and death metal.
Whether you're going to see these changes as a good thing will very much depend on your likings of the genres, but whereas the band's previous output was shades of a spectrum, the component parts are now far more polarised. And glorious as some of the melodic moments are, for the most part they're ultimately dominated by the heavier passages.
The 'old style' 25YS is however evident on the two closing tracks Parade Of Souls and The Thirteenth Bell (as well as the 'hidden' track Ghost from 2009). To my mind, it's far more accessible material, but others will no doubt embrace the band's new-found ferocity.
And it has to be said, it's an admirable piece of work to be put together on a shoestring budget.
***½
Review by Pete Whalley
Album review (Cassandra)
---
| | |
| --- | --- |
| | Print this page in printer-friendly format |
| | |