Just witnessed your best live gig?.. send us a review!
HAMMERFEST III, Prestatyn, North Wales
17-19 March 2010
Day 3: Saturday 19 March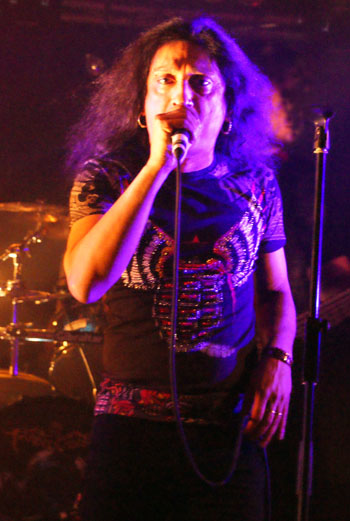 Photo: L & R Publications
After a very late night the night before, I woke up around elevenish and I wasn't greeted with a pretty sight. Sleeping only a couple of feet away in our tiny room to Mr Oakley who awoke around the same time as me. Amazingly many Iron Maiden fans think he looks like Dave Murray which boosts his ego very much, but believe me, after a night on the sauce, he looks more like Eddie.
In the restaurant demolishing an English breakfast, many friends walked past and smiled and reminded us of the things that happened the night before. I wasn't full of much conversation at this early in the day but I could raise a sniggering smile.
Bulldozing UK thrashers Beholder had the duty of firing the midday gun and set the day off to a high standard. The giant haystack singer Simon Hall cheekilly has a T-shirt with the slogan 'I beat anorexia', maybe I should have one with 'I haven't got a hangover'.
Despite the early start Beholder already have built themselves a big fanbase and many were here having their first beer of the day. Glasses raised to Beholder.
Battle stations at the ready and rising anew were Power Quest. A new album 'Blood Alliance' - and a new singer in Sri Lankan born Chity Somapala - has raised the stakes for Steve Williams' Quest for world dominance.
With a haunting spooky intro that Rob Zombie would've approved off, Anglo-Italian Deadly Circus Fire were the weirdest act of the weekend. After a minute of being on stage Save Addario decided to smash his guitar to pieces (He doesn't like sugar in his tea).
Like Ronnie James Dio singer Adam Last is the little man with the big voice. Looking like 'The Joker' rejects , these guys in make-up mixed System of The Down with the freaky progness of Primus. Take this band seriously, they aren't clowning around.
Taiwanesse Cthonic had a great stage prescence looking spookilly like something out of a horror movie but had the sound of white noise like the piercing ultrasonic sound of a cat scarer.
A band on the up are Brighton bashers Furyon who sound a lot heavier live than they do on disc. Furyon have an unbeatable metal edge to them and cool looks that attracted the most ladies today, not surprising when the next band is Scotland's own Attica Rage.
Despite having a bit of nepotism behind them, there's no denying that Attica Rage are becoming the darlings of Prestatyn.
Opening the main stage at six pm the Rage put on a show to remember with flame throwing girls and angle grinders who were firing out as many sparks as the band.
They even slipped in their second Motorhead cover of the weekend, the self titled 'Motorhead', a song Lemmy orignally wrote for Hawkwind and hasn't performed in years, so good to hear it done finely by Johnny Parr's gang. A new album 'Road Dog' should propel them to the major league.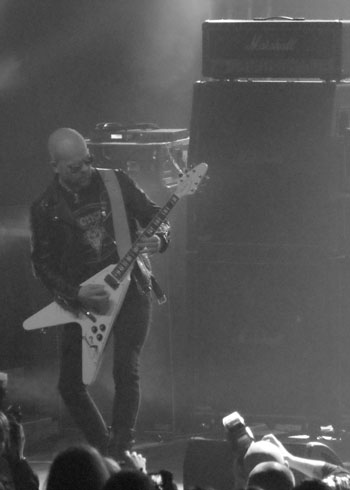 Photo: L & R Publications
Grand Magus cancelled their European tour due to drummer Sebastian contracting deep vein thrombosis, but specially today fellow Swede Olle Dahlstedt from Entombed stepped in to help his buddies out.
I like Grand Magus a lot with their atmospheric upbeat doomy metal but with only three members it leaves a big gap in the middle of the stage and after a while can get visually boring.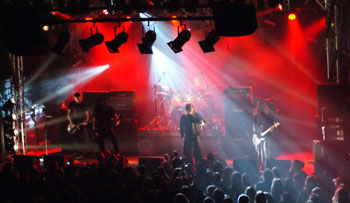 Photo: L & R Publications
There was no rest for Olle Dahlstedt as he was due back on stage with the death metallers Entombed who showcased why they are often refered to as pioneers of the Scandinavian death metal scene. The bulk of their set was from those early years and for those who love this stuff were band of the weekend.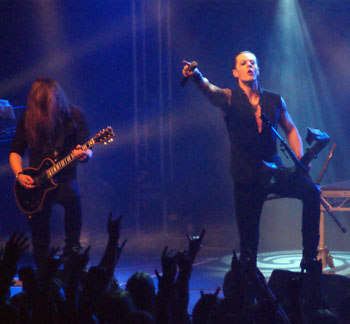 Photo: L & R Publications
One band who most people were talking about as the must see band was Satyricon who were treated with devil like status from some fans. Frontman Satyr had a big devil's fork for a mic stand and there was enough strobe lights to give someone a epileptic fit. The pentagrams still burns for the Norwegians who had a fuel for hatred.
Sabaton were the best band here last year, but had to rely on some help from their allies to fulfill their set this year.
Falun's Robert Back took the drummer's stool from Daniel Mullback who was having trouble with his knees (I wonder what they do on the Sabaton tour bus to get knee trouble?) and Dragonforce's Frederic Leclercq was taking up six strings helping out as Rikard changes the nappies at home.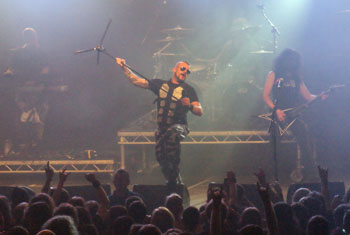 Photo: L & R Publications
Sabaton are great fun and are a perfect festival band, Joakim Broden even attempt's to get Hammerfest to do the Y.M.C.A (At least he didn't change it to H.O.M.O like he did at Bang Your Head Festival in Germany last year). Later whilst crouching down, the crotch on his combats splits and he's left with a couple of dangling grenades.
With an arsenal of anthems like 'Cliffs Of Gallipoli', '40:1' and 'Primo Victoria' there can only be one outcome and for me Sabaton won the battle of the bands today.
It was hello darkness my old friend as Onslaught destroyed us with the 'Sounds Of Violence' with some brutal new material and another cover of a Motorhead song tonight with their single of 'Bomber'. With so much homage going on to Motorhead then surely that is the band to be headlining HRH in December especially as they always tour the UK at that time of year?
It didn't take me long to get on a equal footing with the party animals and Viking Skull and Evile rapidly became a blur into the early hours. Once again the Hammerfest became the Hammeredfest.
With so much depressing news in the world at the moment it was nice to get away from the TV for a few days and have three fantastic days and listen to great music, but more importantly to enjoy the great company of so many wonderful people who make Hammerfest what it is.
See you next year at the bar boozers.


Review and interviews by Mark Taylor
Photos by L & R Publications
---