Just witnessed your best live gig?.. send us a review!
HAMMERFEST III, Prestatyn, North Wales
17-19 March 2010
Day 2: Friday 18 March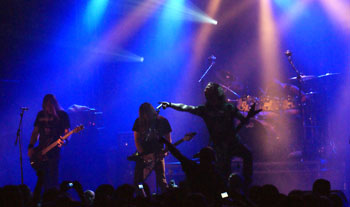 Zoom (Click large image to cancel)
Photo: L & R Publications
The Hammerfest really gets going on the Friday with more metaheads arriving and the big guns are here to blast us into oblivion. I took the sensible option of taking it easy the day before as today was going to be a busy day for myself having to conduct a few interviews and also to check out as many bands as humanely possible. Professionalism is the order of the day.
In the Queen Victoria pub, the Guardians Of Andromeda are commencing battle at midday. One of many new battle metal bands ready for a fight, the Guardians Of Andromeda have sharpened their swords in honour to Manowar and Turisas and have some of the finest battle songs you will hear on these British lands. Although their battlecry is from backing tapes there is no disputing the excellence of their songs. Great fun, their destiny will come sooner than expected.
The Mercy House were something special, sounding like Judas Priest overdosed on painkillers with some Halfordesqe deadly screams and grinding riffs. This time last year everyone was talking about Furyon, next year it will be the Mercy House. Killer metal, how it should be done.
Bringing their own stick of rock from Blackpool were Ravenface who were actually babyfaced but had some manly deathly growls and head shattering drumming. Like their home football team, things are looking up for thrashers. Annihilation is coming your way.
Arceye were keen to make an impression judging by the amount of posters the band had plastered everywhere. Arceye played to a packed house displaying their hunger for metallic thrash and the boys earned themselves a sponsorship deal with Dean Guitars after today's performance.
It was time to leave the Queen Vic as my partner in crime Mr John Oakley was arriving on site and I had to go and meet him to direct the fellow to our chalet. The DJ Beerman was staying next door and we became friends at last year's HRH as we were then room mates.
After my first batch of interviews were successfully out of the way I caught a glimpse of Holy Grail most of the whom started life in White Wizzard. Playing old school heavy metal with a hardened edge, the Californians lived up to their promise of slaying a few dragons in Wales today.
UK thrashers Sylosis kept the younger thrash heads more than happy and the band are getting tighter than ever.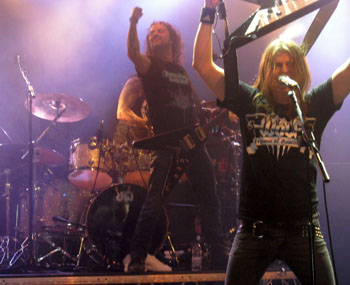 Swedish metallers Wolf came out with all guns blazing looking sharp with their Flying V guitars. The band played some skull crushing metal with a tight sound harking bark to traditional heavy metal. Songs like 'I Will Kill Again' and 'Speed On' was pure metal mayhem.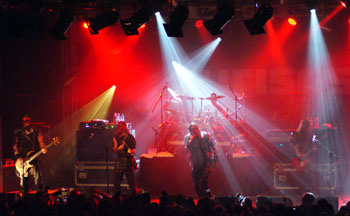 Zoom (Click large image to cancel)
Photo: L & R Publications
Whilst most dressed as Romans the day before, today many had faces painted in red and black markings for our Viking heores Turisas who raped and pillaged Prestatyn with this performance.
A conquering performance where Turisas were out for blood. During their cover of 'Rasputin' I was still capable enough to do the high kicks of a Russian Cossack. The battlecries for 'Battle Metal' from the crowd could be heard from the Valley's of Wales to Holmgard and beyond.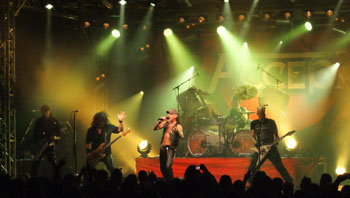 Zoom (Click large image to cancel)
Photo: L & R Publications

Accept were a cut above the rest and gave a master class in metal. Even at 90 minutes their set was too short.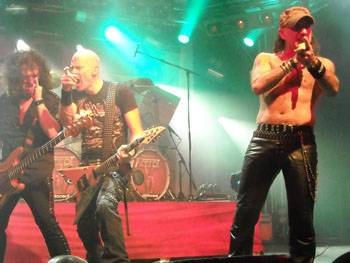 New album 'Blood Of The Nations' is a return of form to their classic heyday. New singer Mark Tornillo does a fantastic job snarling his way through these classics. I got my air guitar out for 'Princess Of The Dawn', 'Fast As A Shark' was a neck breaker, and we all showed the sign of victory for the anthemic 'Balls To The Wall'.
Even after that performance finishing past midnight Hammerfest punters were still feeling restless and wild and over at Stage 2 Tarrie B was giving us a dose of her band My Ruin. Tarrie B still has the dominant approach and like me had been enjoying the Jack Daniels although hers was purely for medicinal purposes to smooth her throat.
Tarrie B had a long dark night in front of the barrier rather than singing on the stage itself, as she wanted to be close to her adoring fans as possible. A cover of AC/DC's 'Have A Drink On Me' went down well just like the booze.
Closing the main stage were Latin American metalheads Ill Nino who whipped up a storm creating a mega mosh pit. Looking at half the audience it was little wonder that Ill Nino have named their new album 'Dead New World'. Although Hammerfest resembled a zombie movie at this time of night their was still plenty of life in everyone.
It was rather ironic that the night previously a Metallica tribute band were closing the night and tonight a band that Metallica would later cover had the honour of closing Stage 2.
NWOBHM's Blitzkreig had their self titled tune covered by Metallica on the 'Creeping Death' E.P. I was creeping death myself this time of night and sadly too blitzed myself to take any notice of what was happening on stage.
One great place to make friends at the Hammeredfest is the smoking area outside and over the last few years I have made many friends here. However for some bizarre reason everytime someone I knew came outside (i.e every minute) they got a rendition of Saxon's Denim And Leather, and soon everyone was joining in one big happy chorus for long into the night.
''Denim and leather...they go together...It was YOU, that set the spirit free.''

Review and interviews by Mark Taylor
Photos by Mark Taylor unless otherwise stated
---