Just witnessed your best live gig?.. send us a review!
GUILFEST, Stoke Park, Guildford 15-17 July 2011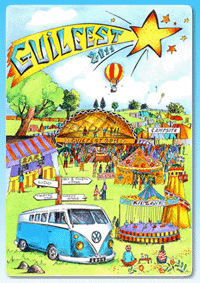 Guilfest time again and looking at the line-up not a lot of rock 'n' roll on the main two stage but dig deeper and in the tents there are some gems to be had. Big Cheese magazine took over the Rock Sound cave, whilst Viva Le Rock! magazine debuted with a tent full of punk, ska and rock 'n' roll.

First band of the weekend, the rather good Outcast Band on the Good Times stage. I really enjoyed their 'The Longest Mile' album and live they are well worth seeing. Highlights included 'Orphans' and 'Don't Go Home', both of which reminded me of the Levellers but with a bit more emphasis on rock than folk. An excellent start to the night's proceedings.

Next up over in the Big Cheese Cave, Pure Reason Revolution. Having seen them last December playing a headlining set they were up against time with a set of just under forty minutes.
Their mix of electronica, guitars and beats may not be for all (my daughter and niece lasted one song!) but they really are quite original.
'Blitzkreig' and 'Deus Ex Machina' - a hit single if ever there was one - went down well. They had a few sound gremlins but other than that a well received, compact set.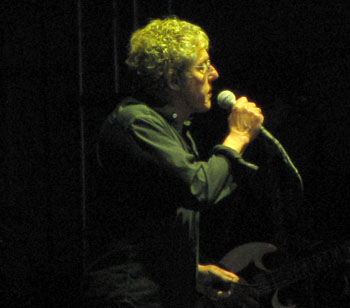 Roger Daltrey was headlining the main stage and playing a set heavily leaning towards the 'Tommy' album. A few classics to start with including 'I Can See For Miles' and 'Real Me'.
Sadly though Roger Daltrey was plagued by sound issues throughout the half hour I saw of his set and his patience must have been sorely tested at times. Enjoyed what I saw of his set but Adam Ant and the Good, the Mad & Lovely Posse were calling me over on the other stage.

I have never seen Adam Ant live but I enjoyed his 80's hits back in the day. Amazingly as he told the crowd this was only his third festival appearance and considering one of those three was Live Aid, Guilfest pulled off a coup booking him.
He has had his personal issues in the past but I am pleased to report, bar a little on stage nerves, he was on fine form.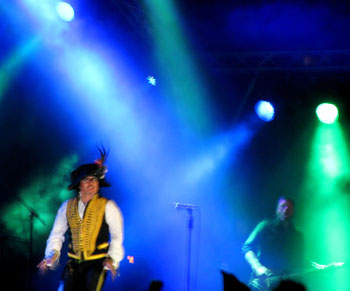 The set opener 'Plastic Surgery' wasn't one of his best but after that not a duff song in sight. 'Dog Eat Dog', 'Car Trouble', 'Ant Music', 'Stand & Deliver' and 'Wonderful' went down a treat with the large crowd, many of whom had drifted away from Roger Daltrey and his sound issues.
Other hits included 'Goody Two Shoes', 'Viva La Rock', 'Deutscher Girls' and 'Prince Charming' which got the biggest reception of the night. His band were very good, including the traditional two drummers and two female backing vocalists who lost more clothing as the set went on. Without a shadow of a doubt Adam Ant is back and go see him folks when he tours the UK again in November/December.

All in all one of the best nights of music I have seen at Guilfest for a few years now.

Saturday was slim on rock 'n' roll pickings but Saint Jude started the afternoon nicely. Like a female fronted Free is one description I have read about them and that hits the mark. I saw them last year at Guilfest and in between times they have been honing their live sound and picking up rave reviews along the way.

The main stage held little interest today and wasted forty odd minutes with some dancing couples doing ceroc dancing. Fine for a tent but how about a live band? Strange choice for a mid-afternoon slot.

Folk singer Kate Rusby has been picking up awards and plaudits all over the place and given her voice it is not hard to see why. Perhaps veering into the more relaxed folk sound than I personally like, you can't argue with her vocals and the backing musicians. Again I can see her being higher up the bill when she returns.

The Farm had success in the early 90's, tagging onto the Manchester sound (although they come from Liverpool) and drew a decent sized crowd, although the queue for a Peter Andre signing nearby threatened to outnumber them at one stage.
'Groovt Train' was pleasing on the ear and their big hit 'All Together Now' is made for a call and reponse with a festival crowd.
Managed to hightail it down to the Viva Le Rock tent to catch some of the Sex Pistols Experience. They had the looks and the songs down to a tee, going down well with the enthusiastic crowd. No matter what the age of the wearer beneath mohicans, never fail to fascinate!

Steve Harley & Cockney Rebel were good value playing an appropriate 'Here Comes The Sun' which had recently made an appearance after some heavy rain showers. 'Make Me Smile' was in the set of course, gaining a massive cheer. He also had his son on keyboards. A good, solid festival act.

Time to try the theatre tent and comedy tents as N-Dubz, Razorlight and Peter Andre headlined the main and second stages. The crowd on the whole was much younger than previous years doubtless due to the headlining acts.

The acoustic tent as ever held some good singers, although often they were drowned out by the nearby disco tent. The Kids Zone always proves a hit, although we missed Peppa Pig who must have been powdering her nose when we went into the Kids Zone. New this year was a vintage area - very reasonably priced afternoon cream teas - with a bingo tent. How rock 'n' roll is that?

Guilfest celebrated twenty years this year, having grown and changed considerably over the years. In the years I have been coming - since 2003 - the emphasis on music has switched from rock and 80's acts to more modern acts, hence the changing (and younger!) crowds these past two years.
It may mean some people don't come one year due to the line-up but then equally you will get some new festival goers in. But if that's what the festival needs to do to survive more power to them.
Now for next year's wishlist how about The Eels, The Darkness, The Feeling, Mumford & Sons, Peter Gabriel and Adam Ant on the main stage. Vive le rock!

Review by Jason Ritchie
Photos by Samaa Husain
---