Just witnessed your best live gig?.. send us a review!
CROPREDY, Oxfordshire, 13 August 2011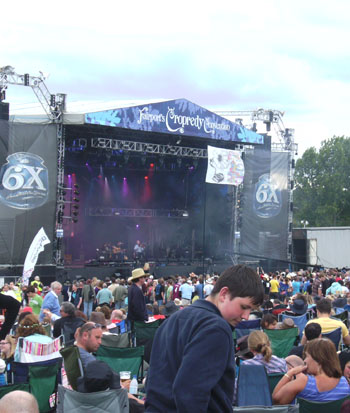 Fairport Convention's Cropredy festival has been an essential pilgrimage for folk fans since 1976. It's been many years since I last attended, so I was only too pleased to reacquaint myself with this much loved festival this year. The first thing I noticed, apart from it now being a three day festival, is that it hasn't really changed a bit. It's still a wonderfully friendly, family oriented festival of Fairport, folk and a lot more besides.
With this being a festival rooted in folk, you can be pretty sure there's going to be a fine selection of real ales on offer, so of course my first stop this afternoon had to be the bar to sink a pint of 'Fairport Five', a rather fine little number, before settling in the watch the first act on my list, The Blockheads.
Ian Dury is of course sadly no longer with us, but The Blockheads continue and today's set reminds us of all those great songs Dury left behind. These days they're fronted by a colourful character known as Derek The Draw, a former minder and friend of Dury, who does a fine job of standing in for the man.
The classic 'Sex and Drugs and Rock and Roll' kicks things off in fine style as the band rip though a set packed solid with Ian Dury and the Blockheads classics. 'Wake Up and Make Love With Me', 'Clever Trevor' and 'If I Was With a Woman' all feature from the wonderful 'New Boots and Panties' album, and 'Inbetweenies' was a great inclusion, but it's the big Dury hits towards the end of the set that really get the crowd going.
'What A Waste' and 'Reasons To Be Cheerful' sound great and the set closes with a real sing along for 'Hit Me With Your Rhythm Stick'. The Blockheads return for the encore of 'Blockheads' to a great reception.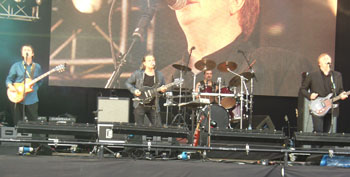 Alongside Thin Lizzy, Horslips are widely considered the greatest rock band to come out of Ireland in the seventies. It was their inclusion on this year's bill, as 'very special guests', that attracted me to return to Cropredy this year, and judging by the amount on Horslips T-shirts milling about the crowd today, I was far from alone.
The band have been reformed for a couple of years now, performing sporadic gigs in Ireland, but it hasn't been until this year that they've ventured out of Ireland.
Today was only their second show in England since they originally split in 1980, so for a lot of English fans who didn't catch them at this summer's Feis festival in Finsbury Park, this was a first opportunity to catch their delightful fusion of celtic folk, rock and prog.
Kicking off with 'King Of The Faeries' and 'Power and the Glory', it's evident that for the first few songs there's a degree of trepidation about their performance, almost as if they're not too sure how they're going to be received here.
As the set progresses through the likes of 'Mad Pat', 'Blind Man' and the Tull-esque 'Charolais' it's clear that the audience are loving every minute and you can see the band's confidence grow and the momentum building.
A wonderful twenty minute chunk of the classic 'Book Of Invasions' album, culminating in the brilliant celtic rock of 'Sword Of Light', sees the set move into top gear and the band hit top form as they deliver a couple of the later seventies tunes, 'Speed The Plough' and 'The Man Who Built America'.
By the time 'Trouble (with a capital T)' and 'Dearg Doom', probably Horslips two most famous songs, bring the set to a wonderful climax it's clear that the crowd, as if there had been any doubt, was well and truly won over.
'Dearg Doom' in particular was a truly stunning version. The audience very quickly demand an encore and the traditional encore of 'Shakin All Over', featuring some wonderful guitar work from Johnny Fean, goes down a storm.
In fact they went down so well that when the roadies came on to remove their equipment at the end of the encore and the compere returns to the stage, the audience don't take no for an answer and continue to chant for the band for a further five minutes, not even giving the compere a chance to speak and explain the show has to move on!
I've rarely seen a band knock an audience out like this, especially at a folk festival, and it's clear that Horslips need to return to England at the earliest opportunity. These guests were 'very special' indeed.
You can't envy any artist who has to follow a performance like that, and sadly the solo acoustic ramblings of Badly Drawn Boy don't hit the spot for me. He gets a very respectful reception from the crowd, but by now people are getting themselves ready for the main attraction of another mammoth set from this weekend's hosts, Fairport Convention.
The last time I attended this festival, Fairport's set lasted for just short of four hours, which is quite a marathon, but when you've got well over forty years of history to cram into the set, it's not too surprising. Tonight's set is a mere three hours.
Kicking off with 'Walk Awhile', Fairport's set tonight provides a fine balance between the older classic material from many different eras, and a taste of the newer material from this year's 'Festival Bell' album, which sounded very good indeed.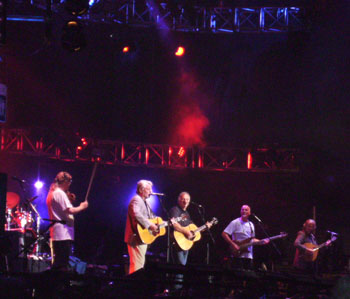 I was particularly pleased to hear a fair few songs from the Sandy Denny era played tonight, especially the delightful 'Crazy Man Michael' and 'Who Knows Where The Time Goes'.
The centrepiece of tonight's show though was the complete 1971 album 'Babbacombe Lee' performed in its entirety. The band have performed the album on their most recent theatre tour, and they were probably putting it to bed tonight, but if, like me, you didn't catch them on that tour, it really was a pleasure to witness them performing this 'folk rock opera' on its 40th anniversary.
The likes of 'John Lee', 'Breakfast In Mayfair' and 'Hanging Song' sounded great and relative new boy Chris Leslie did a fine job singing the parts originally sung by Dave Swarbrick.
The three hours seemed to zip by in a flash and the classic traditional folk epic 'Matty Groves' provides a fitting finale to a very enjoyable set. The traditional encore of 'Meet On The Ledge' gets the whole crowd singing along to end another Cropredy in fine style.
Cropredy really is a great little festival. The atmosphere is superb, the beer is great, and the variety and quality of the music on offer is first class. This time, I'll try not to leave it so long before I return. See you next year!

Review and photos by Jim Rowland
---