EZRYN ZYZYX Nobody Cares Zyzyx Independent Music (2010)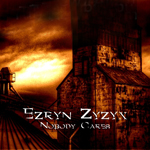 Contrary to the album title 'Nobody Cares', Ezryn Zyzyx (pronounced ez' rin zi ziks) has spent 4 years writing and recording this opus and throws his hat into the ring to bring us his outsider's view of contemporary society, or as he puts it, 'the need many feel for the release in the ethereal'.
To that end he's making some of the album available as free download (www.zyzyxmusic.com ), presumably in the hope that enough people will connect with his humanist mission and his impressionistic music to explore more of his work. Not so much a traditional rock album as an ethereal experience then, 'Nobody Cares' is full of multi tracked instrumentation, phased-vocals, a mix of dirgy progressions and contrasting rich melodic sweeps, all part of an incredibly busy production with lashing of busy buzz guitar.
In fact for the most part of 'Nobody Cares' Ezryn Zyzyx uses his voice as an emotional lever - part feel, part ad hoc musical instrument with phased-harmonies - to connect with the listener.
From the repeated opening piano line and short catchy melody of the title track with its mission statement of 'Remember your life is not a show and then you can live and let go' via the Pink Floyd influenced ('Welcome to the Machine') 'Dragons Fly', we're into a vocal collage of repeated phrases, multiple tracking, crashing power chords and processed vocals. And if nothing else Ezryn Zyzyx will surely pick up new fans on the back of this free download with its core Gilmour style progressive guitar line.
But while 'Dragons Fly' has an organic feel and bristles with instrumental vitality, it is ultimately compromised by a cluttered production. Yes there's a lovely melodic sweep and imposing buzz guitar but the processed vocals and weighty guitar line struggle to breathe.
In fact it's this sense of claustrophobia that hampers Ezryn's musical inventiveness. There's simply too much going on at any one time and it's the kind of clutter that an outside producer could easily redress.
Nonetheless there's much to admire here, particularly the space rock feel of 'My Crime' with its processed vocal sweeps over some intricately layered melodic textures. This track feels a bit like an audio version of a painter experimenting with colours in an attempt to search for something slightly different.
By contrast 'Users' is a lumbering drone, born of a wall of sound full of dense multi-tracked guitars and keyboards which all add to the sense of the dramatic. 'Propensity' also works well if only because of its simpler arrangement - just acoustic and voice (not unlike Greg Lake) - and it is nicely juxtaposed by the staccato fractured melody line of 'Locrian Chain'. The latter is full of intricate percussion, stabbed piano lines and sudden burst of buzz guitar on an excellent piece that re-addresses the notion of Progressive.
And if you make it as far as 'All Too Real' you will doubtless enjoy the blend of close to the mic phased-vocals and synth g uitar sounding patterns, while King Crimson fans will surely be drawn to the 'Red' era riffs of 'Endless', albeit the gruff impenetrable vocals make it hard going.
On the impressive Brian Eno influenced 'Reeds of Time' - a number full of imposing waves of sound and deft Caribbean sounding percussive patterns - Ezryn sings; 'Lord How I wish to see some change'. This is the first time since the opening title track that his message becomes discernible as for the most part he uses his voice used as an additional instrument.
But 'Nobody Cares' is nothing if not inventive and surprising by turns, as evidenced by the closing 'Shadows'. This harpsichord and acoustic driven instrumental is carried by an uplifting melody line and acts as the perfect antidote to the previous sense of claustrophobia. And just when you think it must be the perfect end piece, Ezryn adds an additional short rusty string sounding instrumental passage topped by a meditative hymnal like vocal drone not unlike Dead Can Dance. You can just hear the dying echo of the last note, a case of a mini dramatic finish to a macro work of some substance that narrowly escapes being crushed under its own weight. File under left field Prog and just worth the 4 stars because of Ezryn's visionary intent.
****
Review by Pete Feenstra
---
| | |
| --- | --- |
| | Print this page in printer-friendly format |
| | Tell a friend about this page |