THE WYNNTOWN MARSHALS Westerner Charger EGR005 (2010)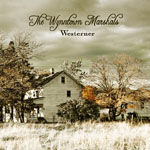 'If you're looking for a man with a five year plan, well I don't look that far ahead', so sings The Wynntown Marshals front man and song writer Keith Benzie. And armed with some hand me down Keith Richard riffs and meditative narratives, the band meander their way through a post Gram Parsons , Jason & The Scorchers meets The Long Ryders style album.
'Westerner' pushes all the right Roots Rock buttons from snarling vocals to country tinged, raggedy rock & roll, where jangling guitars meets pedal steel with sing-along booming choruses. What it lacks most is that vital ingredient that would separate The Wynntown's from a host of other similar bands.
That's not to say 'Westerner' doesn't have it moments, particularly on an impressive cover of the LA Guns' 'Ballad of Jayne', the Neil Young 'On The Beach' era style 'Snowflake' - all shimmering guitars and earthy vocals - and even an instrumental with real presence 'Thunder in the Valley'. But it's only on the much later stylistic diversion of 'Divine Compassion' that the band break from their Country Rock mould to suggest something weightier.
The twist of course is that The Wynntown Marshals hail from Scotland, and lest this fact prejudices our appraisal of their story telling narratives, you have to judge their brand of Americana either on an emotional or cerebral level. And the truth is that they do come close on a number of occasions to emulating contemporary alt. country outfits like The Drive Back Truckers. On 'Gil' for example, Benzie's story telling is as powerful as his phrasing is effective. But ultimately you have to ask the question, so what? What about the characters, the stories and overall their Americana style niche, do we really care enough about the songs? And I guess the answer is that while 'Westener' initially engages us with its bluster and later with its subtle lyrical twists and turns as well as its shifting moods, it sticks too closely to a restricting Country template that renders songs like 'All I Want' a near miss and MOR tunes like 'Nelly' as a failed stab at the Eagles inflected Country Rock.
Far more impressive is the tribal drum beat, jangling guitars and darker hue of 'Divine Compassion' which builds up a feeling of imposing presence as Keith rasps out his vocals over a patchwork of fractured guitars and industrial drone. Here is the song on which The Wynntown Marshals suggest there is more to their work than the merely derivative. In sum, just like the impressive art work, the 11 tracks promise much but deliver only fleetingly.
***½
Review by Pete Feenstra
---
| | |
| --- | --- |
| | Print this page in printer-friendly format |
| | Tell a friend about this page |