WT FEASTER Wish You Well (2010)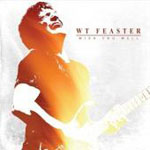 WT Feaster's 'Wish You Well' is an album full of well structured songs with a silky touch of soul, subtle funk and eloquent guitar playing. There's also some great singing and polished arrangements that retain the edge and spark of his material and finds room for a full range of emotions. It's the kind of album that's usually comes later in a recording career and given it's only his second CD it is a remarkable effort.
WT (Travis) Feaster may already have made inroads into the live rock/blues scene with his blistering performances, but 'Wish You Well' suggests that together with his song writing partner Erick Sims he has an eye for a lingering melody. It's rare to find the full package of a guitar slinger, soulful vocalist and excellent songwriter on one person, but Travis fits the bill. His guitar playing is shot through with maturity. His solos are short, sharp, succinct and to the point, but always delivered with enough variety and subtleties of texture to blend into a song as well as give it a lift. And it's this sense of a lilting, understated melodic journey, punctuated with guitar flourishes that make this album so accessible.
'Wish You Well' opens with the impressive 'This Bird Has Flown', which has a sweeping melody, soaring guitar and ever present cool organ and electric piano from Reese Wynans. WT introduces us to his deep soulful vocal style which puts you in mind of Jonny Lang, Joe Gooch (TYA) and the UK's own white boy soul singer Ian Parker. But there's a broader sweep to this album superbly captured by Nashville producer, Scott 'get your music out of the garage' Velazsco, who finds a subtle balance between the primacy of the song and the vibrant musical impulses that give the music its vitality.
WT Feaster hails from Indianapolis and is currently tearing his way through his second UK tour. He's every bit as dynamic as his press suggests but this album shows a deeper more reflective side to his persona. Yes, there's a full range of guitar work but you'll find it all ensconced in a mix of funky grooves and excellent melodic songs full of short flighty solos and husky vocals. The solos themselves are usually well grounded by Reese Wynans' Hammond and they tend to be brief and make their point rather than overextended workouts. 'Gone' is a delightful example of this, with WT's adding a delicate touch and tone as well as some Albert Lee style picking over a light, breezy funky arrangement.
There's a real fluency to the whole project as each song adds something extra to Travis' style. Best of all is a guest appearance from Blues Music Award nominee Tad Robinson on 'Break For You'. Tad's magisterial vocal performance is matched by Feaster's delicately delivered notes and the ever excellent Reese Wynans on organ, on a song that Robert Cray would love to have written
It comes as a refreshing change not to be bludgeoned over the head with smoking riffs from the outset. As with much of this album WT leaves you hanging on for more, as he focuses firmly on leaning into the groove and exploring some delicate dynamics and real feel.
'Gunshy' is another highlight and runs 'Break For You' very close. It's a song of understated power, built on a rock solid groove with some initial Albert Collins style sustain and staccato notes. WT adds another sumptuous full toned solo before a final guitar/organ finale delivered over bv's.
Such is the balance and restraint of the playing and the intuitive production of this album that it belies Travis's relative inexperience as a recording artist. There's a rare maturity to be found in many of the tracks from the radio friendly, soulful funky groove of 'Mr Maybe' to the title track. The latter has another strong melody line, some 'call and response' harmony singing and features a fiery gospel backing and a searing solo.
WT Feaster knows the value of dynamics, of varying his range and above all making a solo add to the song rather than the song relying on the solo.
'Wish You Well is a brave and successful stab at developing the Feaster/Sims song writing partnership. And it is Sims who contributes the uplifting Richie Havens style 'Freedom' (same title, different song), which is an uplifting piece on which the belated Feaster solo finishes all too quickly.
'Wish You Well' is a great album. It may not be the kind of high impact work to blow the barn door off it hinges, but it's a slow burner, a thoughtful work with a core voice that evokes a feeling of time and place. The time is now, and given this album and his busy touring schedule, WT Feaster could just be in the right place to make the most of burgeoning talent.
******
Review by Pete Feenstra
---
| | |
| --- | --- |
| | Print this page in printer-friendly format |
| | Tell a friend about this page |