WISER TIME Beggars And Thieves Wisertime Records (2010)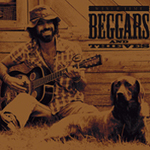 Whether they take their name from the song by The Black Crowes or not, Wiser Time share the Crowes sense of American roots rock. New Jersey's Carmen Sclafani has a soulful voice that brings real expression and feel to a range of material that is as impressive in full guitar led southern rock mode as it is in an alt. Americana stripped down setting.
In many respects Wiser Time is a band out of time except of course they share some of the same musical sources with the southern rock and jam bands such as Gov't Mule and the North Mississippi Allstars. Their point of departure is that they know the value of holding back and the power of restraint and suggestion.
Nonetheless they open with excellent slide led rocker 'Love and Devotion', full of a beefy sonic qualities and clever rhyming couplets over gentle changes and slip into an Allman Brothers style 'On Our Way' before concentrating more on the essence of their songs.
So after a hell of start to an album, they head for the more subtle roots rock feel of an after hours studio session with the emphasis firmly on songs.
As frontman Carmen Sclafani explains, "We wanted to be together for the whole thing and just get into the whole vibe of it'. And the whole album does indeed sound as if they were as he suggests, 'having a great time, and trying any idea that came to mind'
But while there's a glorious raggedy feeling to the album, there's equally a sense of purpose and commitment to make the thing happen.
There's variety, spontaneity and an old fashioned sense of going for it. The band is equally impressive on the stripped down roots of 'Take Me Back Home' which is a well judged slow burner of a ballad that makes judicious use of Gary Oleyar and Bruce Jepson's fiddle and mandolin interplay. And while the track has a down-home feel it's not too far removed from the early Rod Stewart/Faces rootsy style with an edge.
The following love song 'It's Hard Letting You Go' has a well paced vocal/piano intro. The subtle slide guitar line ushers the band into a heartfelt ballad that Neil Young might have written, even if Carmen's raspy vocals are closer to Ian Parker's emotive white boy soul style than Young's drone.
At this point the album could probably have done with another full blown band effort but Carmen goes out on the limb with just voice and acoustic and he just about pulls it off with the bass drum led 'Revolution 9'. There's a lovely understated feel to the piece with Rob Clores's cool Wurlitzer and Steve Decker's telling percussive bottom end. It's the kind of song that draws the listener in and offers a glimpse a mature song writer who persuasively makes his point.
Jimmy Somma's slide then leads the band back into a Little Feat influenced 'Keep It On', on which Wiser Time dig deep for a southern gumbo feel with thoughtful lyrics from one D Schneider. This slow burner again demonstrates the band's art of letting a song breathe via a slow build up infused with real feel.
Rob Clores switches to piano on another country rocker, the self explanatory 'Whiskey & Wine', on which the band evoke both Little Feat and the 'Exile on Main Street' era Stones. There's a chooglin', southern after hours groove, plus an off the cuff rapped out narrative. The latter is a cool little vignette that you could easily have been written with Lou Reed in mind.
Sclafani and Decker round things off nicely with a duet on 'Working Man's Blues' on which the drummer switches to guitar and Carmen adds slide over some telling bv's. It works really well and precedes a cover of Bad Company's 'Seagull', complete with an unedited false start that adds to the loose feel of the album.
But there's nothing loose about Carmen's throaty vocal, as he pours himself into the song while adding mandolin as Decker fills the gaps with potent percussion.
Wiser Time is band to keep an eye on. They are bubbling under and have the songs, the feel and a sense of time and place to establish a potentially enduring niche in the making.
****
Review by Pete Feenstra
---
| | |
| --- | --- |
| | Print this page in printer-friendly format |
| | Tell a friend about this page |