Just witnessed your best live gig?.. send us a review!
WHITE WIZZARD
Camden Underworld 14 November 2010
Photos by Noel Buckley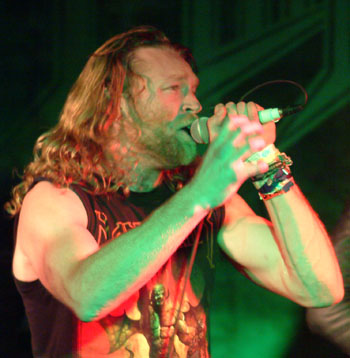 Primitai certainly sound like they've benefitted from this stint as main support on this White Wizzard tour, sounding tight and full of energy. Promoting new album 'The Line Of Fire', this London-based 5-piece metal machine deliver a set of well crafted, powerful and epic sounding songs, with crunching riffery and quality soloing, whilst retaining a strong sense of melody.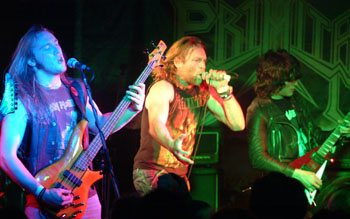 The band's influences clearly lean towards the classic old school metal sound, with Maiden and Priest springing to mind, and the likes of 'The Craft' and 'The Line Of Fire' get fists pumping and heads banging down the front. A great reception for a promising band.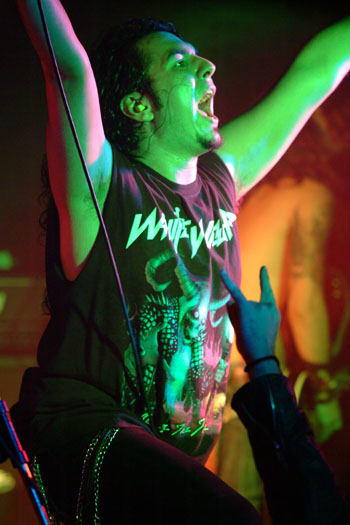 It's been pretty hard to keep up with the numerous line-up changes that have blighted White Wizzard's first few years, but tonight sees the culmination of the first UK tour of the now hopefully settled, long term line-up of this much talked about band.
I was highly impressed with White Wizzard's set at this year's Download festival with Michael Gremio taking vocal duties, but tonight gives us a chance to see the band with new permanent vocalist Peter Ellis taking over. The set is a good balance of material from last year's 'High Speed GTO' mini-album and the latest album, 'Over the Top'.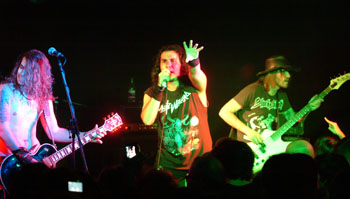 Zoom (Click large image to cancel)
As with Primitai's set, the responsive crowd continue the fist pumping and headbanging as the band launch into 'Over The Top'. '40 Deuces' and' Celestina' are followed by the impressive 'Shooting Star', a new single exclusively available on this tour and a touching tribute to Ronnie James Dio, the song's subject matter. Nice to see the proceeds from this single going to Dio's Children Of the Night charity too.
'Out Of Control' cranks up the tempo and keeps heads banging whilst the epic and slightly darker 'Iron Goddess Of Vengeance' provides a highlight of the set. The band don't let up as they pound through to the finishing line with 'White Wizzard' & 'March Of the Skeleton' with 'High Speed GTO' wrapping things up to a good response.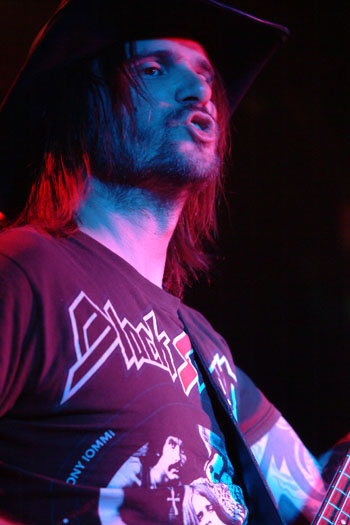 It's impossible to review this band without mention of their similarities to Iron Maiden. Musically, they're very similar indeed with founding member Jon Leon's bass style replicating Steve Harris's galloping bass runs in large doses.
Equally, new singer Peter Ellis's voice is a dead ringer for that of Bruce Dickinson. He also had a habit tonight of repeatedly shouting 'scream like you mean it London!' in exactly the same way as Dickinson's trademark 'scream for me London' (or wherever else he may be that night).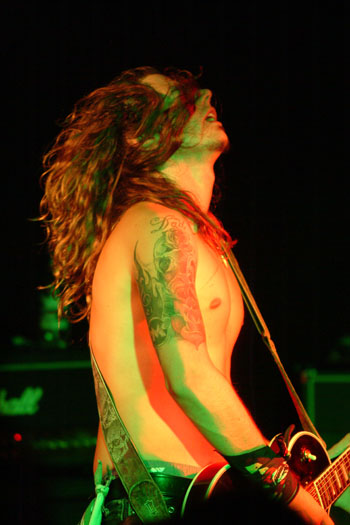 They now have an eponymous song title in 'White Wizzard', and they even have a roadie jumping on stage at the end in a White Wizard's mask, bearing a striking resemblance to Eddie of course.
This is where the band sell themselves short in my opinion. There comes a point where they seem to be going beyond wearing Maiden's influence on their sleeves and border on pastiche. A clearly talented band, they're capable of more than this and should be striving for a bit more of their own identity, which I'm sure will come a little further down the line.
That said, as with Earache label mates Cauldron and Enforcer, it's great to have an exciting young band with the talent, interest & enthusiasm to go back to the classic metal sound of the NWOBHM which for me has still never been beaten. Just a bit less Maiden and a bit more Wizzard please.


Review by Jim Rowland
Interview by Mark Taylor
Photos by Noel Buckley
---