THE OLD GREY WHISTLE TEST Rhino (2010)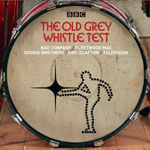 Bob Harris took over from Richard Williams as host of the BBC TV rock show The Old Grey Whistle Test in September 1972 and Whispering Bob is most closely associated with the series - his tenure lasted until 1978.
Now he's helped compile a new 2-CD set (first of a series) celebrating the show and featuring many of the artists he championed. I've always thought that the Whistle Test has never been properly served by retrospectives, apart from the excellent DVD releases several years ago. But as for CD compilations?
Well, apart from a couple of tracks (Patti Smith performing 'Because The Night' and Al Stewart's 'Year Of The Cat') all the tracks featured here are studio recordings, rather than directly from the show's videotape. This may be a bit of a cop-out, because these tracks are mostly familiar and will already rest in many a collection.
The compilers have played safe, so at most all this really does is give a flavour of those bands who appeared on the show. But as a celebration of a seminal rock TV show, this does bring back memories especially to those erstwhile sixth-formers who eagerly awaited each week's mix of bands and video, and Bob's erudite pronouncements.
The Whistle Test format, especially under Bob's steer, has never really been equalled. Latterly it withered under successive presenters who basically seemed to lack Bob's genial and infectuous enthusiasm and intelligent questioning, or maybe his tenure coincided with a particularly vibrant period for rock n roll as he championed the likes of Marc Bolan and David Bowie. (Both are missing on this selection, although will more likely be serviced in later releases). It may come as no surprise that Bob Harris baled out before punk took hold.
And as for the show that many consider the logical successor, (in spirit at any rate) 'Later with Jools Holland' - it may be just too eclectic for some tastes and its mainman, well, just plain irritating.
****
Review by David Randall
Listen to the Bob Harris interview podcast
---
| | |
| --- | --- |
| | Print this page in printer-friendly format |
| | Tell a friend about this page |