WALTER TROUT Common Ground Provogue (2010)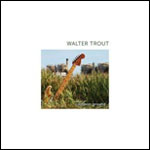 'Common Ground' is Rock/Blues guitarist Walter Trout's 20th album. And while there have been many highlights in a prodigious recording career, judged simply on the song writing alone 'Common Ground' is a career best.
Trout himself says 'I believe in story telling and honesty and searching for the truth', and in many ways he has always striven to do that. But in the capable hands of producer John Porter and a stellar band comprising drummer Kenny Aronoff, James 'Hutch' Hutchinson on bass and pianist Jon Cleary he hits new heights.
For while there is still lashings of Walter's trademark guitar work and any number of soulful grooves, strong melodies, intense riffs and moments real emotion, feel and tenderness, there's an overriding new maturity in his vocals and real expressive phrasing. This is especially so on 'Danger Zone' on which Walter sings; 'it's the province of a young man, To believe in what will be, I ain't a young man anymore, So that don't work for me', over a backing groove that is an amalgam of his own' Say What You Mean' and 'Victor The Cajun', in other words awesome.
There's a lovely flow to the album, born of quality songs, strong narratives, passionately delivered vocals and of course superb playing over 12 tracks that meander like a river in search of expression. The electro/acoustic opening stomp of 'May Be a Fool' and the heartfelt ballad of 'Open Book' are the perfect opening;
'There's always a hidden meaning, inside the metaphor,
You may have to read it one more time, if at first you ain't too sure'.
Walter builds up to a wonderful closing guitar solo over deftly delivered piano from Cleary who alternates between punctuated notes and gentle ascending lines. And if this autobiographical song isn't moving enough, Trout follows it with the album's best song 'Her Other Man', on which the quality of the lyrics all but match some brilliant playing;
'She married a man and for a while, there was nothin' they did lack'
But everyday they lost a little, Now they cannot get it back'
At the end of the second verse Walter slips into a spine tingling, slow building solo over Hutch's sumptuous bass line and further ascending piano from Jon Cleary. The intensity builds as Walter steps up the solo with long linear insistent lines over crashing cymbals and an imposing Hammond sound before he finally breaks the tension with a stunning volley of notes and some seagull sounding volume swells and yet more poignant verse;
'Now her life is just a sleepwalk, Of laundry, meals, and small talk,
It's just an everyday routine; The colour's all have lost their sheen'.
In many respects Trout's vocal performance on this song as well as on the later ballad 'Song For My Guitar' and the cool groove of 'Eyes of a Child' confirms his new restrained approach. Where previously he might have over sung his lyrics in an attempt to convey his feelings, here he lets the song breath and as a result the lyrical meaning resonates clearly. Producer John Porter has also brought the band much more to the centre of the arrangements adding extra tonal nuances and melodic clarity.
The title track is dedicated to Chris McGlade, a Middlesbrough based community activist who successfully fought a council's attempts to build on common land (Coatham Common). It's the kind of ballad that used to divide Trout's followers into two camps. But such is the veracity of what is essentially a spiritual ballad that you get swept along by Trout's search for consensus and his magnificent closing solo as Walter and his band coalesce beautifully. If anything the fade comes slightly too soon on a climactic finish.
In many ways this is an album full of stories both imagined and real and is full of characters and friends. In that respect the tale of 'Hudson Had Help' finds Walter reconnecting with Tim Jahnigen with whom he co-wrote his Dutch hit 'Say Goodbye To The Blues'. Its back to pile driving rock on 'Loaded Gun' which like several tracks on the album has a somewhat pessimistic theme, but it's another example of Walter's rare talent for delivering extra spark in a studio setting. It is also the kind of full blown rocker that will surely soon find a place in his live show.
Both the mellow 'Song For My Guitar' and the jazzy undertones, cool organ, walking bass line and interesting changes of 'Eyes of a Child' add an interesting musical backdrop as Walter lets his guitar do the talking.
And just about the time we've gone up, down, sideways and which ways Walter once again firmly anchors everything in the blues, with a double tracked guitar/vocal line that leads into 'No Regrets', a song is heavily reminiscent of his own 'Gotta Leave This Town'. He follows that with a tub thumping 'Wrapped in the Blues' which has more carefully thought out production ideas with the double tracked vocals evoking early Spencer Davis Group and serving to give the lyrics their sense of urgency. The final cut 'Excess Baggage' is a steam roller blues full of big toned guitar, crisp drumming and simpatico organ.
Had this been the opening track to the record you might conclude, 'yeah, that's Walter Trout'. But given the excellence of what has gone before it acts more as a reaffirmation of Walter's core strengths as a fine song writer, an emotive singer and a hell of a guitarist!
In sum, a great player, a monumental band and a great record, go and buy!
*****
Review by Pete Feenstra
---
| | |
| --- | --- |
| | Print this page in printer-friendly format |
| | Tell a friend about this page |