Just witnessed your best live gig?.. send us a review!
VINNIE MOORE/Sons Of Merrick
Camden, Underworld, London 17 February 2010
Photos by Noel Buckley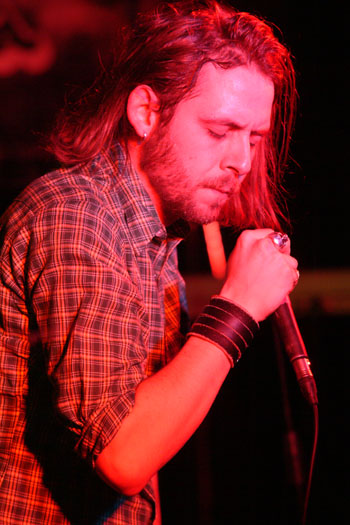 Volume seems to be a speciality of the Camden Underworld and tonight's opening band Sons Of Merrick kick off proceedings in thunderous fashion.
The band are plugging their debut album from last year, 'Tight Nerves & Suavity' on the Sounds of Caligula label, which is gaining a good reputation, due in no small part to these guys.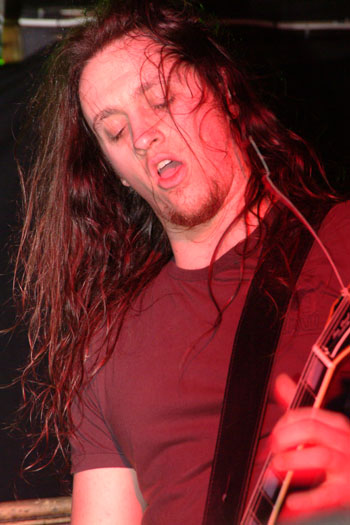 Their sound is most definitely heavy, but by no means one-dimensional. There's some light and shade in there, and a very strong sense of groove thanks to a solid rhythm section and some fine guitar work from Dan Edwards.
Singer Nick Berkshire gives it plenty of attitude and aggression, as do the whole band. Slightly reminiscent of Orange Goblin in places, this is a strong powerful band showing a lot of promise. And who can resist a song with a title like 'Striding The Valleys Of Skullumus'! Good stuff.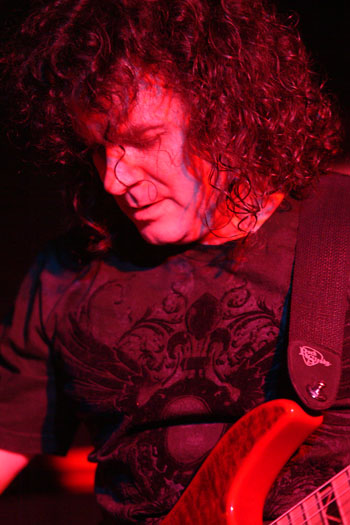 There's a lot more to Vinnie Moore than just being the guitarist in UFO. He has amassed a very impressive body of work dating back to his debut solo album, Mind's Eye, in 1987.
Between then and now, aside from the four albums he's made with UFO, he has put out a further 8 albums, including the new one 'To The Core', which he is here to promote tonight.
Those albums have featured some pretty amazing musicians through the years, and tonight's band is certainly no exception. Vinnie is backed by Mike DiMeo (Riot/Masterplan) on keyboards and vocals, Lars Lehmann (Uli Jon Roth) on bass and the fabulously named Aquiles 'The Beast From Brazil' Priester on drums.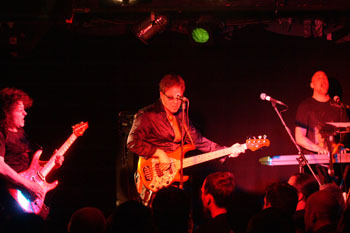 It's not long before Vinnie goes right back to that first album with Daydream, followed by a superb version of The Maze, the title track of his 1999 album, during which the audience get a proper introduction to each member of the band via short but very sweet solos from each individual.
Throughout the evening, the set is punctuated by some very tasty cover versions of well known rock classics, using the vocal skills of Mike DiMeo.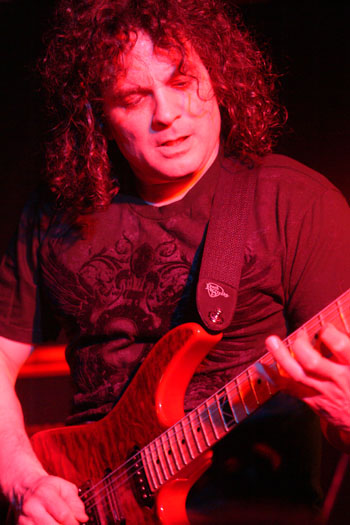 The first of these is a cracking version of Deep Purple's Maybe I'm A Leo, dedicated to a certain Mr. Blackmore, one of Vinnie's early heroes. Rather than emulate Blackmore, Moore very much stamps his own style on the track.
Back to the solo material with the mean and moody Rain, before DiMeo really gets a chance to shine with back to back Paul Rodgers tracks - Free's All Right Now and Bad Company's Rock Steady. If you're gonna sing Paul Rodgers, you've got to be good and DiMeo pulls it off with ease, especially on Rock Steady, a really soulful performance.
Although Moore is the star attraction during the set he lets the other band members have their moment too. Drummer Aquiles Priester's moment was undoubtedly Saved By a Miracle, a track once again going back to the first album, and originally performed by the legendary Tommy Aldridge.
Aldridge's shoes are not easy ones to fill for any drummer, but Priester's solo during the track was pretty mesmerising and one Tommy would have given the thumbs up to.
My vote for the best solo of the evening had to go to Lars Lehmann's astonishing bass solo during the appropriately titled Check It Out. I swear I saw steam coming off his fingers at one point!

With the covers and solos done with, the set cruises though several top notch selections from Moore's solo repertoire. The Hendrix-inspired Time Traveller was a particular highlight. The material from the new album To The Core was strong, especially the set closer Off The Hook which has a strong Santana feel to it. One more cover for the encore, Hendrix's Fire, pretty much wrapped up a great evening.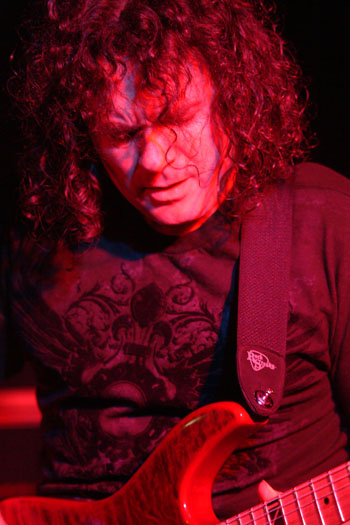 Vinnie Moore is without doubt an exceptionally talented guitarist who can write strong, engaging and stylish guitar music.
I liked the fact that the set was punctuated with the covers, as this gave the solo material more impact. The gig was well attended, and although there was obviously a core of fans of Vinnie's solo output, I spoke to a fair few audience members who were there purely on the strength of his UFO connection and not familiar with his solo work. None of them were disappointed.
This tour can only enhance Moore's reputation as a fine performer in his own right, before he heads back out on the road with UFO later in the year.
Review by Jim Rowland
Photos by Noel Buckley
---