A reminder of G'NR splinter group's early potency...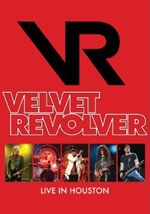 Filmed in 2005 when the band were touring in support of their recent debut album, 'Live In Houston' finds Velvet Revolver at their best - before the ensuing band arguments, egos and various drug related madness inevitably killed off their immediate future and the band's various members floated off into yet more side projects.
This 12 song set, made up of 8 tracks from 'Contraband' and 2 a piece from both Guns n Roses ('Used To Love Her' and 'It's So Easy') and Stone Temple Pilots ('Crackerman' and 'Sex Type Thing'), is a reminder of what a good band Velvet Revolver were - and you have to ask yourself if they can replicate this, if they ever manage to find a new vocalist that is?
The footage itself appears to contain some of the original on stage screen shots as there are several special effects that point to this. The sound is good overall, although there are moments where some of the backing vocals are a bit quiet but then again this is raw rock n' roll show and not a big production number.
The band's energetic performance is lapped up by an enthusiastic crowd and songs such as 'Sucker Train Blues', 'Slither', 'Do It For The Kids' and 'Fall To Pieces' are loud, tight and bang on the money. Slash and Duff McKagan are playing as well as they ever have, drummer Matt Sorum is a solid and reliable centre piece to any band and Dave Kushner fits in nicely between the other members of the band but it is former Stone Temple Pilots frontman Scott Weiland that appears to pull the whole thing together.
There are also interviews spliced into the film which find the band talking about the hard job they had finding Weiland and getting him to join the band. Talk of them listening to thousands of CDs for months on end in their mission to find a frontman is interesting as they clearly didn't enjoy this and yet that is exactly what they must now be heading towards if they intend to keep the Velvet Revolver name alive.
The band's second album 'Libertad' was not met with the same level of sales as the first and after that it was only a matter of time before Scott Weiland patched up his differences with Stone Temple Pilots - but is there any chance of him returning for another stint in Velvet Revolver? Looking at this DVD you can only hope so.
****
Review by Nikk Gunns