UNRULY CHILD Worlds Collide Frontiers Records (2010)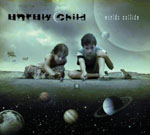 Now here's a reunion with a twist. Unruly Child, a supergroup of musicians from the likes of World Trade, Signal and Hurricane, had the misfortune to release an excellent debut album on a major label (Interscope) just as Grunge broke big and record companies underwent a purge of melodic rock and hair metal.
Much later, the band continued to release albums with different singers, while singer Mark Free, after a legendary solo performance at the first ever Gods Festival in 93, underwent 'gender reassignment' and is now Marcie Michelle Free.
Now though they are back with an album of pure quality. Against preconceptions, Free's voice is now a tad rougher, though no less melodic, and the opening duo of 'Show Me the Money' and 'Insane' have a bit of a Zeppelin-lite feel a la Billy Squier or even guitarist Bruce Gowdy's first band Stone Fury.
However the likes of 'When We Were Young' , 'Love Is Blind' and' Very First Time' are classic slices of blissfully melodic AOR, not unlike the classic Signal album, while the bitter sweet, melancholic melodies of 'Read My Mind' were my highlight of the album.
In contrast closing song 'You Don't Understand' is a complete seventies soft rock retro trip, coming over as a cross between Wings, Styx and ELO with George Harrison- style guitar!
The arrangements are thoughtful and with their trademark slight pomp edge, and this is an album that will bear repeated listening with quite a diversity of styles. Unlike the current Strangeways release, this is a more than justified comeback.
****
Review by Andy Nathan
---
| | |
| --- | --- |
| | Print this page in printer-friendly format |
| | Tell a friend about this page |