Just witnessed your best live gig?.. send us a review!
TYGERS OF PAN TANG
Bridgehouse II, London 22 April 2010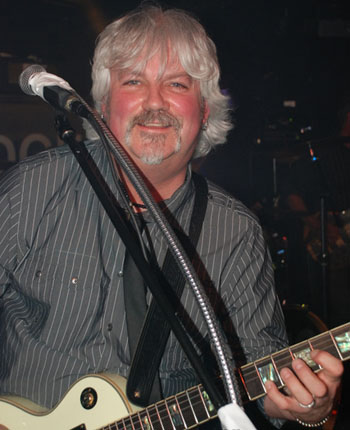 Tygers Of Pan Tang played this very venue last year as a low-key affair as a warm up for the Heavy Metal Maniac's Festival in Holland and are using the Bridgehouse II again tonight for a rehearsal for an appearance at the Keep It True Festival in Germany in a couple of days time.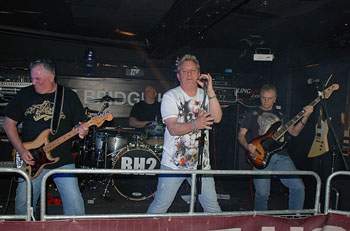 Bridgehouse regulars Slam opened with an entertaining set. Although the boys won't be winning any pin up of the year awards, they did deliver a set of original tunes that hark back to the stadium rock days of the 80's. Worth checking out.
The Tygers weren't the only band doing a low-key gig tonight. Surprisingly, rising rockers Dear Superstar were added to the bill. Fresh from there recent mammoth tour with Heavens Basement, the DS boys took time out of the studio to play this one off gig before they head out on a headline tour in May before striking the Festival circuit across Europe in June.
Their brand of Funeral For A Friendish modern day metal may have been out of place on this bill with the venue full of mostly denim clad rockers, but that didn't sway the confidence of the anarchistic frontman Micky Satiar who was screaming his lungs out with his foot raised on the barricade.
New songs like the single 'My Greed My Vanity', 'Dressed Like Helloween' and the impressive 'Never Surrender' all bode well for the next album. The traditionalists at the back didn't know what to make of Dear Superstar, but the young female fans down the front loved every second of them, not believing their luck of seeing their heroes up close and personal in this pub sized venue.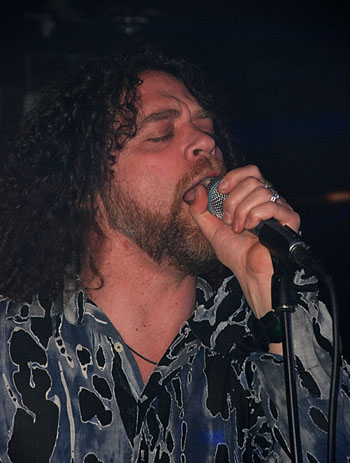 Tonight's show almost didn't happen due to the ongoing volcanic air disruption. Tygers singer Jacopo Meille was still stuck in his homeland of Italy the day before but managed to get a morning flight at the last minute so he could be with his band mates and give the metal faithful a rousing set.
Tygers Of Pan Tang played a set mostly consisting of tracks from the first three albums with only their hit single 'Love Potion No.9' from the fourth album 'The Cage' released in 1982 the most recent material, but what an explosive set it was.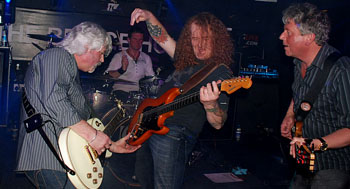 Metaphorically, we do get some new material as the Tygers have re-recorded five tracks from the top 20 debut 'Wild Cat' album and just released it as the 'Wild Cat Sessions' featuring new versions recorded by the new line up.
'Euthanasia' from that EP opens the set in a loud and refreshed fashion. My ear drums almost burst when Jacopo Meille screams ''Good Eveeeening London, were you Raiiiisssed On Rooocckkk?''
My friend and fellow GRTR! writer Jim Rowland was with me and it was his first time seeing the Tygers since 1985 and he was soon back in NWOBHM heaven with his fist raised during 'Hellbound'.
He couldn't believe how good the latest incarnation of the band are, and was very impressed with the vocals of the Italian stallion.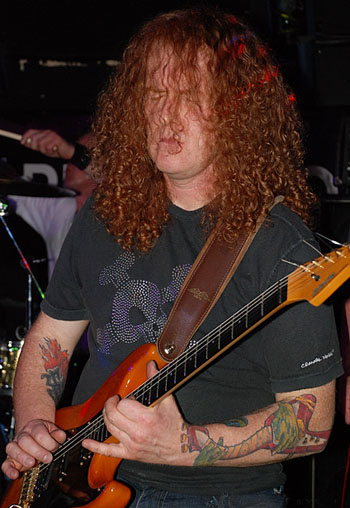 Normal bassist Brian West was away on guitar tech duty for Uriah Heep, but his temporary replacement Kevin Fletcher did a very soild job. 'Suzie Smiled' was punky and punchy, another track from the 'Wild Cat Sessions' 'Slave To Freedom' was pure air guitar heaven with riffs aplenty from original Tyger Robb Weir. I would love to see Metallica tackle this number.
An encore of 'Don't Touch Me There' had more of a heavy blues swing to it compared to the original 'Wild Cat' version. With an old fashioned set tonight I'm sure the Keep It True rockers in Germany were treated to a great trip down metal memory lane.
Having to leave during 'Love Potion No.9' to catch the last tube home from the edge of the map to the centre of London, a gig somewhere more central in the capital is long overdue. The Tygers Of Pan Tang improve with every performance and many are missing out on feeling the sharpened claws of the Tygers.

Set list : Euthanasia / Raised On Rock / Hellbound / Suzie Smiled / Slave To Freedom / Never Satisfied / Rock N' Roll Man / Wild Catz / Gangland .. encores .. Don't Touch Me There / Love Potion No.9

Review by Mark Taylor
Photos by Lynne Saunders/Moonshayde Photography
---