Return of glam rockers...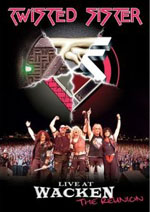 This CD/DVD release from Twisted Sister sees the start of a re-issue campaign that will include their entire back catalogue. Recorded at Germany's Wacken Open Air Festival in 2003, and featuring all 5 members of the band's classic line-up, they run through their hits like it was the mid-'80's once again- and to be fair to them, they still sound the same as they did in their prime.
Having split up in 1987 in one of rock music's most bitter break ups, it was not until 10 years later that the band attempted to play together again - and even then it was only a brief one off partial reunion. In 2000 the band did attempt a one off performance by the classic line-up at a tribute night to the record executive that was instrumental in getting Twisted Sister signed in the first place, however, a VH1 Behind The Music episode aired not long after and proved that the bitterness and resentment between the band's members was still as strong as ever and it looked like a full reunion would never happen. That changed in 2001 when a 9/11 benefit concert made the band realise that they needed to pay tribute to their fellow New Yorkers and they played at The New York Steel Benefit show. After that it gradually appeared that Twisted Sister were back.
This concert DVD is intercut with interviews and footage which covers the band's break up, gradual reformation and the steps they took in getting back to touring. This footage also includes performances from the already mentioned benefit and tribute gigs, a 2003 series of gigs for US troops serving in South Korea and footage from the first show back in the make-up and stage costumes. Now revitalised and seemingly with all the bad blood behind them, 2003 found Twisted Sister playing at rock festivals the world over and this leads us back to Wacken.
With a set list packed with their anthemic brand of rock, the band run through the likes of 'We're Not Gonna Take It', 'Stay Hungry', 'I Wanna Rock', 'S.M.F' and 'You Can't Stop Rock n'Roll'. Bonus features on the DVD include 'The Making of 'Still Hungry' and a photo gallery.
The CD part of the package is titled 'Live ...Past & Present' - as you have probably guessed this features material recorded in the early '80's (Detroit and Porchester 1980 and London 1982) and tracks from the 2003 Wacken Festival.
This DVD is a great insight into the band's break up and comeback serves as a good live document of the band as they have said that, moving forward, they may not appear with the make-up and costumes.
****
Review by Nikk Gunns