TRIUMPH Greatest Hits Remixed Frontiers Records (2010)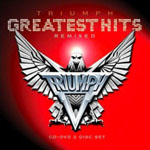 Canadian power trio Triumph are one of the great bands from the seventies and eighties who seem to have been unfairly forgotten about.
So while the world hardly needs a third and very similar compilation from them, it is a timely reminder of their talents for anyone wishing to discover, or maybe re-discover them. Their back catalogue was only recently remastered, but the remix is a fine job with guitars exploding sharply out of the mix.
The 13 'hits' are mixed up rather than chronological, but chart their progression from 1978's 'Rock n Roll Machine', taking on the early sound of fellow countrymen Rush, through to the more AOR sounds of 'Somebody's Out There' and 'Just One Night' from 1986's 'The Sport of King's.
Several of them deserve the 'classic' epithet, from the balls out 'Allied Forces' (rightly placed at the start of the compilation) and 'I Live for the Weekend' (coming over like a supercharged offspring of Boston's 'Smokin''), to more epic tracks such as 'Fight The Good Fight' and 'Never Surrender', not to mention 'Magic Power', which takes me back to the excitement of discovering North American melodic rock in the early eighties.
I was particularly pleased that the commercial hooks of 'Spellbound' and 'Follow Your Heart' made it onto the album, as the recently reformed band have apparently disowned that later period of their works.
Rick Emmett was, and presumably still is, a virtuoso guitarist equally at home with tough riffs or classically-inspired plucking, while his high-pitched Geddy Lee-meets-Steve Perry vocals complement the more straight ahead rock n roll tones of singing drummer Gil Moore. However the latter should never have been let near the mike for a rather passionless rendition of 'Love Hurts' - the one 'new' track on the album but also the one to skip.
If, like me, albums like 'Allied Forces' and 'Never Surrender' grace your collection, dig them out again. If Triumph are new to you, this is an excellent introduction to a highly accomplished band.
****
Review by Andy Nathan
---
| | |
| --- | --- |
| | Print this page in printer-friendly format |
| | Tell a friend about this page |