TOUCHSTONE Live In The USA (2010)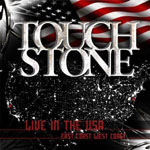 Some might say that only 2 studio albums and an EP into a recording career is a little too early to be coming up with the ubiquitous live double album.
And when you look at the track listing, Live In The USA - which captures the band's first venture beyond these fair shores - is built principally around their excellent 2009 Wintercoast album, but also captures live, a large slice of their equally strong 2007 debut release, Discordant Dreams.
So 'why' I hear you ask. Well, for a kick off, a Brit rock band with prog tendencies taking a tilt at the US of A is a brave move - a bit like hoping to win the World Conker Championship with a hazelnut. Stateside, style often triumphs over substance so if you're going to give it a crack, why not capture it for posterity? It's certainly a tale to tell the grandchildren.
But perhaps a better reason is that Touchstone are one of the bands riding high on the crest of the wave of, for want of a better description, Brit 'new prog' bands. And at heart, they're a very fine rock band, so why not give it a tilt?
I have to admit, I was a little sceptical before listening to the album, but there's no question that Live In America captures the band in all their pomp and glory. Admittedly, the material sticks pretty rigidly to the studio versions, but the recording nevertheless captures a power-packed performance.
There's a confident swagger to the band's delivery - vocalist Kim Seviour has really found her feet as the band's visual and vocal focal point, and their trademark sound - punchy rhythms, proggy time changes and some excellent melodic keys and guitar work - are all present and correct.
For those unfamiliar with Touchstone, Live In The USA is a good a jumping off point for discovering the many virtues of the band's studio output. For those who are already converts, I still have some reservations in the sense that none of the material - good as it is - usurps its studio counterpart.
But all credit to them, and I did like the tongue in cheek artwork featuring the Touchstone logo incorporated into a number of iconic US vistas. So back to the nut analogy, can Touchstone conquer the States? On the evidence of Live In The USA, why not - it's a Mad World.
****
Review by Pete Whalley
---
| | |
| --- | --- |
| | Print this page in printer-friendly format |
| | Tell a friend about this page |