TONY McLOUGHLIN Ride The Wind Tony McLoughlin Music (2010)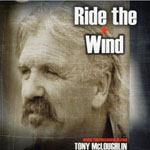 Tony McLoughlin is a Northern Irish singer-songwriter with an American sound and a batch of songs that readily explain his song writing links with Nashville. But this is not the Nashville of the Grand Ole Opry but a centre of song writing excellence that given a far break should offer Tony rich reward.
Given that 'Ride The Wind' was recorded in Ireland with home grown musicians it should be viewed as that rare achievement, a top notch slice of Americana that manages to avoid the pitfalls of clichéd lyrics, a wooden production and contrived songs.
'Ride The Wind' represents all that is good in the contemporary roots rock genre. The songs are well crafted and backed by an intuitive production (courtesy of Ben Reel who doubles on acoustic guitars) and comes with the kind of continuity and flow that is rare in an independent release.
And while 'Ride The Wind' doesn't quite manage to carry the majesty of the opening 'You Look To Me' over all 10 tracks, there's enough moments of real inspiration to be constantly drawn back into Tony's understated but compelling style.
The opening brace songs featuring the Tom Petty influenced 'You Look To Me' and the Bob Seger influenced title track (co-written with Tommy Womack) are both moulded by muscular chiming riffs that drive them on to their respective conclusions.
The Davis Raines co-penned 'You Look For It All' has a dirgy Neil Young style chiming guitar line reprised on the later 'Deep Under Your Spell' while another McLoughlin/Raines effort 'Not Too Far From Memphis' enjoys a rootsy swamp blues feel and a hypnotic groove that lyrically nails its mast to its geographic title.
All the songs are beautifully judged and full of steely riffs, lovely harmony singing and undulating tempos that evoke a sultry meandering journey. And while McLoughlin barely hides his thinly veiled influences he makes the most of them turning them into something all of his own making.
Look no further than the mesmerising 'Mothers Son' with its hypnotic guitar line, crisp drum pattern, cool vibes and Knopfer style vocals. Tony's world weary enunciation brings a sense of real emotion to the lyrics on a song that lets the melody breathe. Nothing is forced and as the notes float into the ether as you are almost invited to ponder the meaning of the words. The drop-down ending is the perfect finish to a song that makes the most of a very delicate dynamic.
In some respects Tony is stuck in a beautiful musical time warp where songs and melodic grooves merge with incisive riffs to bring feel and atmosphere to heartfelt lyrics. On 'Soul Brothers Soul Sisters' he aims to fuse a gospel/Celtic divide and settles for an Otis Taylor like drone, full of lovely harmony singing and a delightful Patsy Toman mandolin driven melody. Like many of Tony's songs repeated listening reveal lingering melodies and resonant sonic qualities that underpin his deeply felt expressive singing.
Tony's songs unfold like a series of tales that in due course reveal more about the writer bit by bit. Some of the choruses embody an anthemic quality while the edgy guitar lines lead the songs up down and whichever way suits the lyrics. But he's never to far away from an expansive Americana base.
The feelings and emotions may be born in Northern Ireland but the imagery and vistas belong to another continent. Listen to 'I Like The Way' for example, the song may carry another signature Neil Young guitar line, but it finds its heart and soul comes from Tony's lyrics. The clever phrasing and pregnant pause just before the concluding part of the chorus give the song its punch.
He finishes with 'Treeline' a meditative spiritual ballad not too far removed from Dylan. But like much of this album the influences swell dip and meander in and out some beautifully crafted songs that come stamped with Tony's own sense of symmetry.
He may be rooted in folk and his guitar lines may be derived from rock, but 'Ride The Wind' is a delightful journey across the plains in the capable hands of evocative songwriter. 'Ride The Wind' may be a slow burner but it's a CD you should buy and revisit many times.
*****
Review by Pete Feenstra
---
| | |
| --- | --- |
| | Print this page in printer-friendly format |
| | Tell a friend about this page |