Just witnessed your best live gig?.. send us a review!
TOMMY CASTRO BAND Boom Boom Club, Sutton
17 May 2010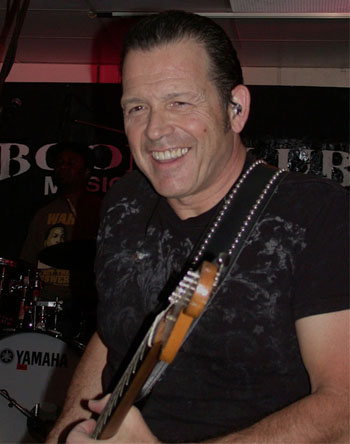 Photo by Phil Honley
When they finally give out the best gig in the sky award, San Francisco's Tommy Castro and his marvellous band will surely be at the very top of the list.
For this short notice Boom Boom Club appearance was as much a celebration of all that is good in rhythm blues as it was the promotion of his current award winning Album of the Year 'Hard Believer'.
The Tommy Castro Band was simply everything you would ever wish for from an American tour band. Much like Delbert McClinton at his best but with a sharper band, Tommy Castro reset the bar for contemporary rock-blues and soul.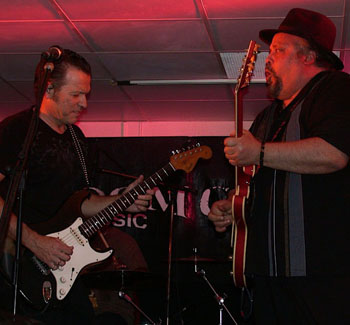 Tommy Castro and Otis Grand. Photo by Phil Honley
Truth be told, musical labels aren't that relevant to a band that thinks nothing of shifting its considerable musical emphasis from Blues to Rock, via Soul, Boogie and Funk and ultimately back to the blues again

Essentially presenting his music as a contemporary variant on the trusted review format, the evening took on an unexpected extra turn when Otis Grand took to the stage to share some big toned solos with Tommy.
It was a pivotal moment if only because what had gone before had been of such quality that it took every ounce of Otis's professional to leap into the fray and come up with something as good. In the event he and Tommy launched themselves into Albert King's Memphis drenched 'Everyone Want To Go To Heaven'. The guitars duelled, the saxes wailed and Tommy added a mid-number rap before the number exploded.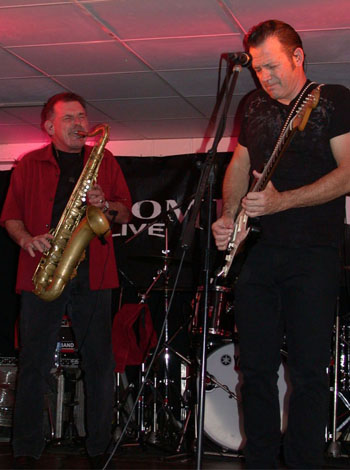 Keith Crossan (sax) and Tommy Castro. Photo by Phil Honley
But back to the man of the moment, the 2010 quadruple Blues award winning guitarist cuts a modest dapper figure who quietly revels in his role as band leader. In fact Tommy almost cuts an unremarkable figure until he starts to unveil his spine tingling vocals and fires off some of his smoking licks.
And there were plenty of both on offer in two sets that ranged from the muscular grooves of Dylan's 'Gotta Serve Somebody' via the subtle brilliance of 'The Trouble with Soul' - a beautiful groove this - to the Memphis feel of 'Hard Believer', the whip cracking funk of 'Nasty Habits' and the self penned, show stopper 'Wake Up Call'.
The band peaked on this number as the horn section of Keith Crossan on sax and trumpeter Tom Poole launched themselves into another stratosphere while Tommy played some angular lines and pianist Tony Head pounded his keys.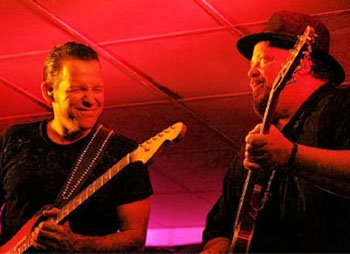 But there were further highlights, most notably the soulful blues of the Castro/Rick Estrin co-write 'Back Up Plan', on which Tommy extended his full vocal range, as well as the Texas feel of Stephen Burton's 'It Is What It is' and Tommy's own 'Can't Keep A Good Man Down'. The latter was another song of measured brilliance and showcased some more of Tommy's fierce guitar work.
The band duly rocked out on 'Make it Back to Memphis' on which the horns and keys punched their weight. Perhaps the most impressive thing about the two and a quarter hour show was the fact that the show effortlessly shifted gears to pursue several exhilarating, wide ranging but musically related directions.
There was an outrageous boogie version of 'Serves Me Right To Suffer' on which Tommy broke down the band to deliver dazzling licks in duet format with drummer Ronnie Smith. And finally as if to confirm the notion of a review, a memorable evening finished with the equally pulsating James Brown's 'Sex Machine', complete with a Latino section as unlikely as it was stunning.
Tommy Castro leads a pressure cooker of a band, full of musical tensions, so much soul, wicked solo's real feel and enough intensity to match any rock band in the world.
To borrow the oldest of clichés, the band blew the roof of the pace as the crowd whooped and hollered. No, this wasn't the Deep South; it was Sutton, Surrey, but for a glorious few minutes the crowd had collectively been transported to another time and another place.
Review by Pete Feenstra
---