Just witnessed your best live gig?.. send us a review!
TOM PETTY AND THE HEARTBREAKERS/ZZ Top
Hollywood Bowl, Los Angeles 1 October 2010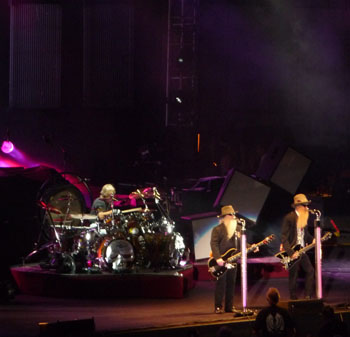 Of the diminishing number of currently active bands I have never seen, Tom Petty and the Heartbreakers were high on my wish list, and my appetite in recent months had only been whetted further by their recent live CD box set and 4 hour documentary on BBC4.

I jumped at the opportunity to break this duck in style by seeing them play the Hollywood Bowl. Especially on a beautiful California autumn night such as this, the Bowl is a marvellous 18,000 seat open air amphitheatre carved into the hills above downtown Hollywood- although the less said about the bumper to bumper parking lots the better!

As a brucie bonus, the Heartbreakers were supported by ZZ Top, headline material in their own right. Indeed having seen them do so at both Wembley and High Voltage in the last 12 months I was a little jaded, knowing exactly what they were going to play and their little jokes such as Billy Gibbons' scantily clad 'blues hat' roadies.

The Reverend Billy G, Dusty Hill and Frank Beard got into their effortless swampy groove, with Billy's bluesy solos a delight, but his voice, both while speaking and singing, sounded horribly croaky and did somewhat spoil my enjoyment. For a support act, a set time of over an hour was generous, but still meant this was a truncated 'greatest hits' type set, with a cover of Hey Joe perhaps the only surprise.

Billy's solo during I Need You Tonight and great slide guitar of Just Got Paid were highlights, while as at every show since time immoral they closed with the trio of glossy hits from Eliminator and encored with drawn out versions of La Grange and Tush. They seemed to go down well but failed to really entice an audience mainly of Tom Petty fans out of their seats.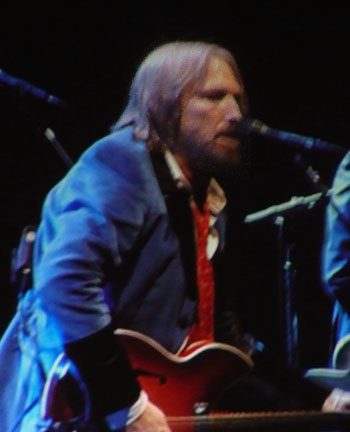 Year on year, the Heartbreakers play to venues this size in America and know exactly how to put on the big arena show. Yet they do so in a low key and seemingly effortless style, without gimmicks, trademarks or stage spectaculars. Even the instantly recognisable Tom Petty is generally happy to let his magnetism speak for itself rather than break up the flow of a show with chatter between songs or audience participation.

However their great strength is the way they seamlessly work together as a unit with individual band members allowed to flourish, but all within the band's distinctive groove. Indeed, the overall quality of the ensemble playing probably rivalled the E Street Band for sheer togetherness.

I always felt Mike Campbell was a much underrated guitar player, but was unprepared for the way he was allowed greater scope live, regularly stretching out into some fluid, winding solos which combined feeling with great technical dexterity. In contrast though master organ and keyboard player Benmont Tench, though integral to their sound, is content to play a low key role.

I fully expected their new album Mojo (a huge improvement on its dull predecessor, Highway Companion by the way) to form the cornerstone of the set as it had been heavily promoted, including a free download with every ticket purchased. However, it was an hour before they played any of it; instead, opening with Listen to Your Heart, we got a cavalcade of the greatest hits.

Highlights were numerous but included Mike's slide guitar on I won't Back Down, a slow burning Free Fallin', and a cover of Oh Well with a series of fiery solos from Mike. But perhaps the best moments were the 'team efforts' - Mary Jane's Last Dance saw some great collective work with a harmonica solo from the versatile Scott Thurston, leading to guitar solos from both Mike and Tom, while having locked into a steady groove for Breakdown they then brought the tempo down to a virtual standstill.

Finally we got four new songs, to be digested all in one sitting. To be frank, I had only really been familiarising myself with new material on the flight out, but the results were highly impressive: the discordant, almost garage-y Jefferson Jericho Blues, the slower blues of Good Enough with a brilliant solo from Mike, Running Man's Bible, where they again locked into the groove, and the unexpectedly heavy riffing of I Should Have Known It.

Returning to the tried and tested, Tom largely played Learning to Fly acoustically, while Don't Come Around Here no More, never usually my favourite had so much going on; from its military beat and Scott singing some of the verses, to the way they dropped the temp in the middle, only to build up and finish the song in an increasing frenzy.
It was hard to top that, but Refugee, with Benmont's trademark organ on the intro and another great extended solo from Mike, came close.

With a Friday night crowd belatedly in the party spirit, they encored with Runnin Down a Dream , with the band again jamming out, and, of course, American Girl which had all 18,000 singing along.

My only complaint was that, with the amount of material in their career, an hour and three quarters long set was a little on the short side, while if I were more of a Petty diehard, I would have been frustrated by the lack of more obscure material.

Nevertheless, it was a gig to remember - a great setting to witness one of America's classic bands, and one whose live shows, on this evidence, take the songs you know and love on the records into quite a new dimension.


Review and photos by Andy Nathan
---