TOM McRAE The Alphabet Of Hurricanes Cooking Vinyl COOKCD514 (2010)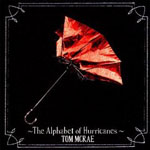 It would be very tempting to dismiss Tom McRae as just another singer song writer who fits easily into the post Coldplay generation of artists who have returned to the bed sit to contemplate the world through enquiring lyrics. His mix of the emotive, the introspective and more generally speaking love songs are part and parcel of the 60's coffee shop folk movement.
But there's more to Tom's talent than the occasional aching love song, for McRae is a thoughtful and at times complex lyricist whose nails many of his metaphors to the natural elements of earth, water, wind etc, while using the notions of movement - both linear and circular - to express a series of deep relationship songs.
In that regard 'The Alphabet of Hurricanes' is an aptly titled album and Tom himself sums up his own situation thus; 'I realised if you stop fighting the wind and the tides and work with them, you can call it sailing'.
And while it is not the case that Tom glides effortlessly through 12 outstanding tracks here, there a sufficiently polished and imaginative production at play the add flesh to the bones of some heartfelt and at times poignant songs. Perhaps the key to his song writing is that all the lyrics really concern the self, and his personal experiences and imagery are the tools by which a troubled individual seeks to find his own equilibrium.
On the epic closing number '15 Miles Downriver' he notes, 'All motion it seems is a relative thing, But I can't tell whose further from whom'. Even here he's really trying to make sense of both his surroundings and a notion of the self in a boarder context of finding his place in the world.
The songs are well paced and cleverly arranged as on the Balkan feel of 'Wont Lie' and the dynamics of 'Please' which evokes the spirit of Arcade Fire.
In between that there is the wistful love song 'Summer of John Wayne' which includes the clever turn of phrase 'some things burn bright, but burn themselves out to embers'
On the stripped down arrangement of 'American Spirit', he displays a feeling of vulnerability not unlike early Neil Young. And of course there always the river, and in the case of 'Told My Troubles to the River' the constant sense of motion and circularity, the notion that what goes round always comes round.
On balance Tom McRae's 'The Alphabet of Hurricanes' has enough songs and real substance to stand head and shoulders above many of his contemporaries. This may not quite be the album to break big with but it's another significant step forward.
****
Review by Pete Feenstra
---
| | |
| --- | --- |
| | Print this page in printer-friendly format |
| | Tell a friend about this page |