Just witnessed your best live gig?.. send us a review!
TODD RUNDGREN
London HMV Hammersmith Apollo, 6 February 2010
Photos by Noel Buckley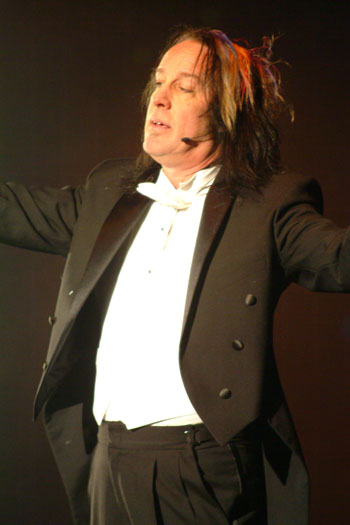 There's a mood of joyful anticipation outside The Hammersmith Apollo. Todd Rundgren fans from all over are here to witness the European premiere of the record that was once decried as a commercial failure and has over time been recognised as one of Rundgren's very best.
A Wizard, A True Star, the crazed mish mash of Zappa-esque weirdness and beauty will tonight, a mere few months since its US premiere, be performed in its glorious entirety. The only question is, can Rundgren, 37 years after the album's original release, still 'take the bull by the horns' and pull it off?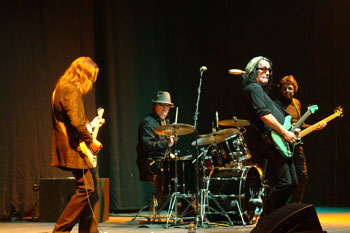 Zoom (Click large image to cancel)
Things look good from the start. The evening commences with a very special opening guest - Todd himself.

His latest project entitled Rundgren's Johnson, contains a three piece band plus the man himself, playing rocked up versions of Robert Johnson's blues classics. And however bland this may sound, Rundgren makes it work and creates his own beardless version of ZZ Top, getting the crowd nicely heated up for exciting things to come.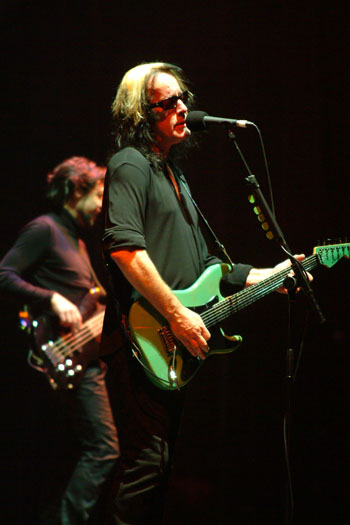 Roughly 50 minutes later and it's finally time for the main event of the night...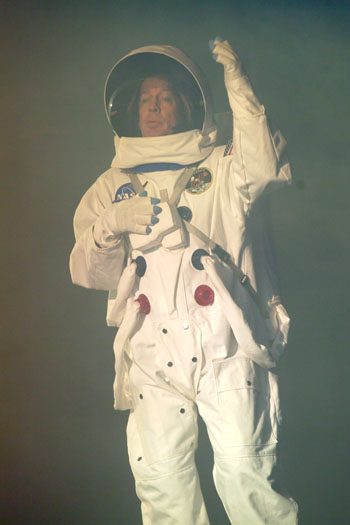 The lights dim and we find ourselves in almost total darkness before the first familiar noises of 'International Feel' start buzzing out of the speakers. Smoke rises out from behind the stage curtain, the keyboards come in and bam! - the curtain opens for the climatic intro of the set.

In front of us we have a suited and booted six piece band, three on each side, elevated on risers and held apart by a golden arch in the middle of the stage. Smoke continues to rise and through the arch steps none other than - Rundgren in a spacesuit. The moment is so surreal, spectacular and unexpected that our hair stands on end.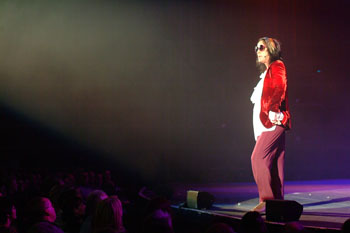 Zoom (Click large image to cancel)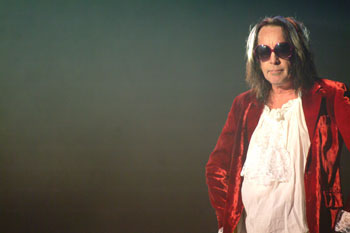 Zoom (Click large image to cancel)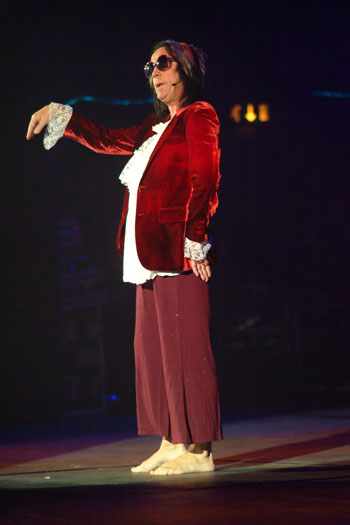 And this is only the beginning of many more costume changes over the course of the night. While one track segues into the next, Rundgren pops in and out of his 'magic wardrobe' only to unveil yet another exciting character like the Devo-esque Boojji Boy lookalike for 'Just Another Onionhead/DaDa Dali', the dying bird aka Rundgren tarred and feathered for 'Zen Archer', Todd as classical conductor for 'Never Never Land' and Rundgren in '60s get up for 'You Don't Have To Camp Around'.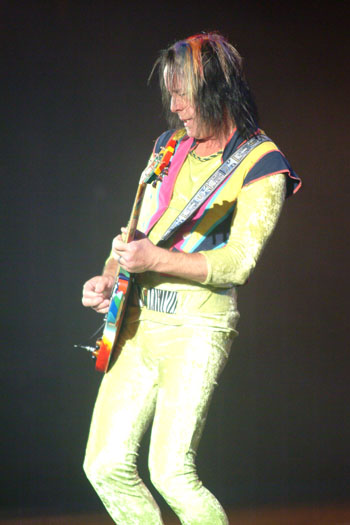 But all this theatre would be nothing more than a distraction was it not for Rundgren's flawless guitar skills and his pristine vocal performance. His voice remains as untainted and fresh as in his early days, only bettered perhaps by the odd additional nuance that his 40 odd years of showbiz has taught him.

Much praise also goes to band which consists of some of the finest players around - Greg Hawkes, Kasim Sulton and Prairie Prince, to name a few. The guys do a marvellous job throughout and are particularly interesting to watch during the crazed mid-sections from the A-side of A Wizard, A True Star. Complex instrumentals like 'Tic Tic It Wears Off' and 'Flamingo' sound flawless and added visuals exclusively made for the Wizard shows complement these mid-sections perfectly.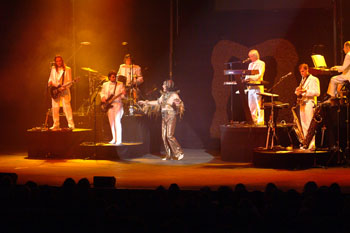 Zoom (Click large image to cancel)
Bass player and sometimes Utopia vocalist Sulton at one point steps up to the mic to sing 'Does Anybody Love You' so Rundgren can get ready for the 10 minute plus 'Medley'. The three part song goes down a treat and for the final part of the soul medley, Rundgren's second keyboard player and jack-of-all-trades Bobby Strickland jumps up to the front of the stage and riles up the crowd before him and Todd do a special 'Cool Jerk' freak out, which finally gets the seated crowd up and dancing.
Earlier in the set Rundgren missed playing the rocker and fan favourite 'When The Shit Hits The Fan / Sunset Boulevard' only to throw it in now after 'Is It My Name' for a double whammy of an end section. The Hammersmith crowd thank him for it and groove along.
The band exit the stage but Rundgren gets called back pretty much immediately by rapturous applause. He calls out his band and his costume designer one by one and introduces them to his fans before finally ripping into what's going to be the last of tonight's performances, the mighty 'Just One Victory'.
In a lot of ways 'Just One Victory' is the crowning glory of this special evening and arguably Todd's true masterpiece to which the crowd sing along, excitedly. Halfway through the outro of the song we turn to scan the blissed out fans and it becomes clear that this was no ordinary concert but the work of a wizard, a true star. Long may he continue to shine.

Review by Dino Gollnick
Photos by Noel Buckley
---