Just witnessed your best live gig?.. send us a review!
TIGERTAILZ
Fuel Club, Cardiff 17 April 2010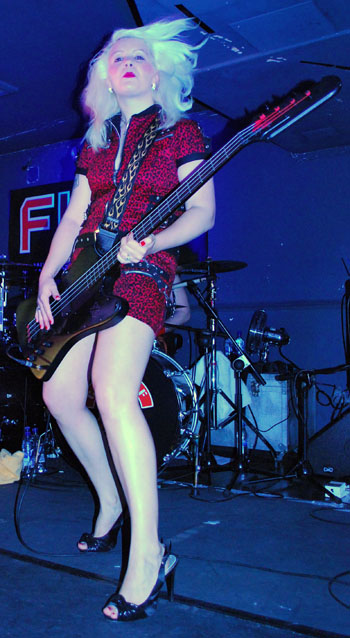 Twenty years ago Tigertailz released 'Berzerk' on the Music For Nations label. An album that broke into the UK top 40 for the Welsh glamsters but failed to ignite other parts of the world. Which is a shame, but back then you weren't considered a cool rock band unless you got tanned up on the Sunset Strip or frequented the Whiskey A Go-Go. For our boys from the valleys, this was not to be but London became their second home often seen partying at the Marquee Club, Intrepid Fox and the St Moritz. Happy days.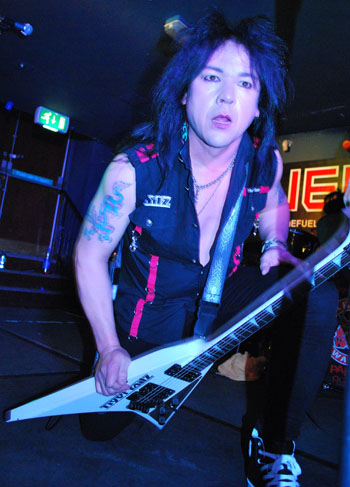 My most vivid memory of those wonderful days was bumping into Tailz bassist Pepsi Tate. A man who had glam rock etched into his heart, a man with no ego ,a party loving creature with more peroxide on his hair than you'll find on the shelves of Boots, often followed by an endless line of beauties.
Sadly Pepsi Tate passed away in 2007 and tonight is a celebration of his life and in aid of a charity called Amser Justin Time, to raise awareness and money for those who suffer from pancreatic cancer in the hope of saving lives. Fans had travelled from all over the British Isles for this special show which was being recorded for a future live album. Once again the band were to perform the 'Berzerk' album in it's entirety. A winning formula first done at a fantastic evening at the Borderline in London last October.
Also tonight Tigertailz are introducing us to the new permanent bass player Sarah Firebrand who will be making her live debut with the band.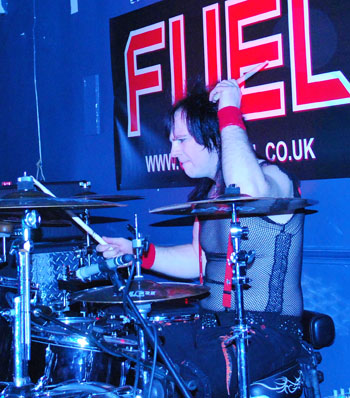 The Fuel Rock Club is packed to the rafters and it's the first time a rock band has performed here. The gig takes place on the dancefloor and there is no stage as such which means those standing at the back can't see a thing except for the spiky hair of Jay Pepper and Kim Hooker bopping up and down to the rhythm of the music.
The party atmosphere is electric and 'Sick Sex' and the infectious 'Love Bomb Baby' quickly fly by. Kim Hooker makes a speech about how the band couldn't really replace Pepsi with another man, so after watching Spit Like This, who have a female bassist in Vikki Spit, the band decided to follow suit and bring in Sarah Firebrand who looked cool in her 50's chic dress.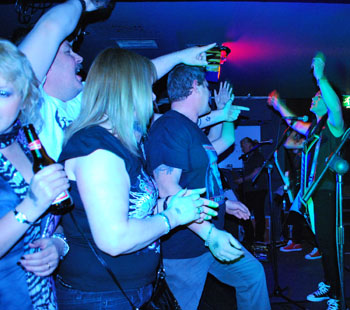 Firebrand gave some funky chugging riffs to 'I Can Fight Dirty Too'. 'Noise Level Critical' raised our voices and 'Heaven' was arm waving time with a song that reminds me of Alice Cooper's 'Only Women Bleed' in places.
Encore time was more of the usual fun that one now expects at a Tigertailz show. 'Crazy Horses', the Osmond classic raced by. From the last album ''Thrill Pistol' came 'Natural Born Animal' which reminded us the band are still capable of writing some killer tunes. 'Wazbones' and a trashing version of Motorhead's 'Ace Of Spades' left us all demolished.
The night was by no means over as Classic Rock magazine's very own Phil Wilding kept the dancefloor busy with some of the best glamtastic rock sounds as if grunge had never happened. Tigertailz came out and mingled and partied throughout the night until the early hours. A classic night out.
Set List : Sick Sex / Love Bomb Baby / I Can Fight Dirty Too / Noise Level Critical / Heaven / Love Overload / Action City / Twist And Shake / Squeeze It Dry / Call Of The Wild ...encores .. Crazy Horses / Natural Born Animal / Wazbones / Ace Of Spades

Review by Mark Taylor
Photos by Sonia Waterfield
---