Just witnessed your best live gig?.. send us a review!
THEA GILMORE
Pacific Road Arts Centre, Birkenhead
23 September 2010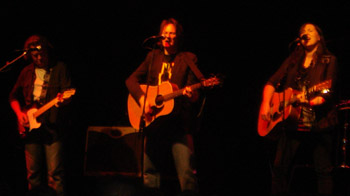 On a grey autumnal night, on the opening date of her Murphy's Heart tour, Thea Gilmore once again gave a masterclass in female singer songwriter performance.

How she hasn't broken into the mainstream is something of a mystery, although ticking all the boxes from acoustic balladeer to rock goddess makes her difficult to pigeon hole. And sadly, universal acclaim typically arrives in pigeon hole shaped packages.

Supported by an outstanding band of hubbie Nigel Stonier (who looks increasingly like Ronnie Wood's younger twin), a rock solid rhythm section of Roy Martin on drums and Vickie Edwards on bass, FM guitarist Jim Kirkpatrick, and the exceptional Fluff on fiddle, the set oscillated between delicate acoustic numbers and 'full on' commercial rock.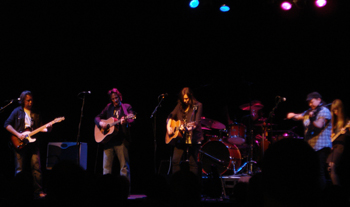 Zoom (Click large image to cancel)
Opening against a backdrop of South American tijuana (it almost sounded like the Benny Hill theme and for a moment I half expected to see Nige chasing Thea around the drum riser) the set exploded with Come Up With Me, Thea adopting her best Chrissie Hynde rock chic stance, legs astride the mic and oozing attitude.

And that dominatrix mode - centre stage and looking every inch a rock star - was a persona she returned to time and time again throughout the set - on the thrusting, throbbing and fumbling 'love' song Driving Home, against a back drop of some first-rate slide guitar on Have You Heard and the frantic Mainstream, and the outstanding Down To Nowhere.

At the other end of the spectrum were the mournful fiddle backed Coffee And Roses and Automatic Blue from her new album - two of the evening's highlights - the piano backed That's How The Love Gets In, and the plaintive acoustic folk of Old Soul.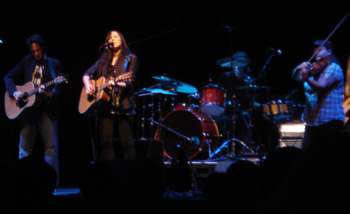 And sandwiched in-between were the pop/rock I'm The Radio and the rootsy Call Me Your Darling which had an almost Springsteen feel provided by Nige's harmonica and Fluff's superb fiddle.

The one constant thread was Thea's impeccable vocals, with the encores once again demonstrating the breadth of her qualities. During Holding Your Hand, alone with her acoustic guitar, you could hear a pin drop as she held the audience spellbound, while Are You Ready closed the night in resounding fashion as she once again adopted her best rock stance.

If there's a better vocalist among her peers, then I'm Ernie the Milkman. Catch the tour - which runs until 15th October - if you can.

Set list: Come Up With Me / Call Me Your Darling / Coffee And Roses ./ Automatic Blue / Have You Heard? / That's How The Love Gets In / You Belong To Me / Old Soul / Not Alone / Down To Nowhere / Teach Me To Be Bad / This Girl Is Taking Bets / You're The Radio / Mainstream / Holding Your Hand / Are You Ready?

Review by Pete Whalley
Thea Gilmore regularly features in the singer-songwriter sequence on Get Ready to ROCK! Radio, Mon-Fri 14:00-16:00 (GMT)
---
Gig review (December 2010)
---