THE SNAKES Sometime Soon (2010)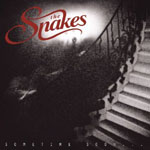 When it comes to Americana and alt. country, Welsh band The Story's are a good barometer of our times. The enjoyed several high profile guest spots and cut a couple of excellent albums full of Crosy stills & Nash style harmonies, and narratives that would grace any self respecting Americana band. They also opened the doors for a raft of singer-songwriters and would be Brit alt. country bands. But they never quite broke big, which poses the old question, can white people sing the blues, or in this context, can British bands sing alt. country?
'Sometime Soon' by The Snakes partially answers the question in the affirmative. It's an album with an MOR country core but with some interesting peripheral rough edges. The Snakes have the harmonies, the narratives and for the most part the feel. But if there's one think holding them back, it's a tendency to over egg of the cake. For as on songs like 'Wasting Time' they come too close to the kind of saccharine MOR feel that already over populates too much day time radio, while on 'We Can Fly' they apply convincing Eagles style harmonies, but it comes with the same sugary MOR aftertaste.
Yet the opening delicate piano chords and poignant vocals of the languid but essential 'Interview' suggest a band with real presence. The Snakes also stretch out on 'What Have I Done To You' which is one part Americana, one part alt.country and a dash of Latino. And as with much of the album they incorporate beautiful harmonies, delicate playing and well crafted song-writing into their own unique style.
In many respects 'Sometime Soon' is a case of two steps forward, one step back. As it is, for every country outing like 'Wasting Time' there's a strong counter balance in the form of 'Promised Land' - on which they strike the prefect balance between country and rock with a great hook - and the mesmerising groove of 'Cumberland Breeze', which is topped by a carefree whistle.
As if to illustrate glimpses of their catholic taste, they throw in the bluesy boogie of 'Jesus in a Box' with its stop-start riffs and Beefheart meets Howlin Wolf vocals, while on 'Tin Foil Town' they lean into some sharp harmonies, jangling guitars and alt. country with a bit more edge, that is reminiscent of Jason & the Scorchers. There's even room for the poppy refrain of 'Come My Way' showing that they are not averse to penning a good old sing-along chorus.
In many respects 'Sometime Soon' straddles the thin dividing line between the band's weighty potential and an existing county template. It's a tension that is played out right to the end of the album as evidenced by the juxtaposition of the tear jerking drinking song 'Amaretto'; - 'too much whisky, too much gin, another round, the same again' and the meandering Neil Young style intro of Black Cat' which features all the band's strengths of good phrasing, cool harmonies and intuitive playing.
If you like you country rock in the Poco mould you'll probably enjoy this album. If on the other hand your take on alt.country leads you to The Drive By Truckers, then you will probably press the shuffle function on your ipod/cd player and still probably come out smiling, a case of a Brit country band at the very least holding their own.
****
Review by Pete Feenstra
---
| | |
| --- | --- |
| | Print this page in printer-friendly format |
| | Tell a friend about this page |