THE POODLES No Quarter Frontiers (2010)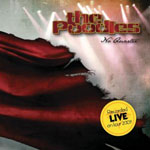 'No Quarter' is the first live album from Sweden's The Poodles- not as sleaze rock as you'd expect, but catchy European melodic rock. The album comprises of 13 songs from the bands 3 albums plus a drum solo (possibly a slightly pointless drum solo but part of the show no less).
The album sounds slightly polished for a live record but that said, I cannot think of a recent live album that does not sound like it has had a bit of 'studio assistance' in places. The show itself is nice and loud, full of raw energy and the audience sound like they are having a great time- all the ingredients needed for a live album- well, except a good band and The Poodles are certainly qualified in that department.
There are plenty of the big backing vocals, hooks and solid guitars that you would expect from the band. Opening track 'Too Much of Everything', 'Metal Will Stand Tall', 'Like No Tomorrow' (complete with '70's glam style drum stomp), the show's only ballad 'One in Ten', 'Echoes From The Past', 'I Rule The Night' and 'Night Of Passion' are all stand out tracks on the album and have done a good job of making me want to check out the bands studio albums.
Live albums do tend to be almost a fans only affair, and no fan of The Poodles will be disappointed by 'No Quarter'.
***½
Review by Nikk Gunns
---
| | |
| --- | --- |
| | Print this page in printer-friendly format |
| | Tell a friend about this page |