THE ORB featuring DAVID GILMOUR Metallic Spheres Columbia (2010)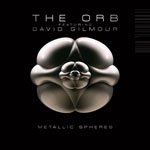 This is primarily a collaboration borne from mutual respect between one of the pioneers of the 'weird music' idiom, David Gilmour and a renowned protégé, The Orb.
Martin 'Youth' Glover admits that he had already written the key tracks of Metallic Spheres before Gilmour turned up with a 4x4 full of fancy guitars. It began and ended as protest album against the conviction of Gary McKinnon who is accused of hacking into NASA computers in the hunt for a cover up over UFO activity.
Having witnessed inexplicable spherical objects hovering just above my local church tower, I confess some bias towards the subject matter. But thankfully this hasn't led to false imprisonment.
From the very first bars of the title track, this is unmistakably Gilmour's guitar cutting into the mystical twirls and hypnotic beat. The latter is so The Orb.
Don't expect too much of the melodic warmth in 'Comfortably Numb' or 'High Hopes' in any of David Gilmour's work on this album. Instead, the guitar work in his file marked 'noodlings.'
On first listening, I was contemplating 3 stars as I couldn't help thinking Gilmour had parked himself for an afternoon of guitar overdubbing between trips up The Thames on the barge, but further plays whilst I was preparing my GRTR Rockwaves show helped me to realise that it does work well as a cohesive composition.
Undoubtedly the subject matter itself will raise some eyebrow among both sets of fans and encourage newbies to sample the smorgasbord. But will they imbibe?
The themes are heartfelt with the highlight being 'Hymns to the Sun' theme with its vocal refrain 'if you believe in justice...open up the door.'
The album builds into an outstanding crescendo in the form of 'Bold Knife Trophy' that features the benefits of Paterson's soundscapes. These are dovetailed within Youth and Tim Bran's textures and underpinned by a Bonham style drum sample. A dramatic orchestral moment ends the piece.
It's an Opus Magna in the ambient genre for sure. It has emotion. It has purpose. It has drama, but lacks a defining 'tune' which would have propelled it into wider orbit.
Free your mind and Gary McKinnon.
****
Review by Keith Thompson
Keith Thompson presents "Rockwaves" on Get Ready to ROCK! Radio, Sunday 21:00, Saturday 17:00
---
| | |
| --- | --- |
| | Print this page in printer-friendly format |
| | Tell a friend about this page |