THE LOST GENERATION Pure Barry Discotek (2010)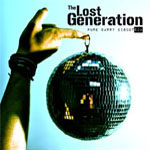 We know very little about The Lost Generation, apart from they're an alternative/indie 3-piece rock band from Fife, Scotland.
But with their debut album entitled Pure Barry Discotek and a mirrorball on the cover, I had some sort of horrible Gavin and Stacey image in my head and was expecting the worst. Especially when the best PR blurb they can come up with is tales of dislocated shoulders, a big band guitar role that never came off, and how the bass player's grandfather was a wrestling champion.
But it's obviously a cunning subterfuge, because Pure Barry Discotek is one of the best debuts you're going to hear this year. OK, The Lost Generation may not be overly original, but then neither were Oasis.
And that's were The Lost Generation fit into the hierarchy of rock - bang spank in between the Gallagher brothers and The Stone Roses. Great accessible commercial rock songs that Noel might have penned, delivered with the driving force of the Roses in full flight (What I Want), or with a sing along acoustic grace (Hold On).
Main man Mike Clark's songs grab you instantly, and with vocals in the Kelly Jones range, it's a formula that should make the band stars overnight. As Noel would say, 'luv it, fuckin' luv it'.
****
Review by Pete Whalley
---
| | |
| --- | --- |
| | Print this page in printer-friendly format |
| | Tell a friend about this page |