SUPERNAL ENDGAME Touch The Sky ProgRock Records (2010)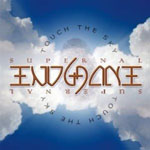 This album has been around thrity years in the making with John Eragle (guitar/ bass/ keys/ vocals) the main driving force and he is ably assisted by Rob Price (vocals/drums) and Dan Pomeroy (guitars). There are some notable guest musicians including Ronnie Stolt of the Flower Kings and Randy George (Neal Morse). The album's aim is to meld uplifting spiritual lyrics with accessible melodic rock backing, although there are some fine long instrumental workouts to keep ardent prog rockers happy.
The nearest musical comparison is Neal Morse, who like Supernal Endgame mix overtly Christian lyrics with damn fine catchy melodies. Okay the lyrics can come over too preachy at times but the music carries it through. It is certianly not as in your face as say Petra's series of 'Praise' albums.
'Still Believe' should certainly be heard by anyone after a taster of the album as this has a catchy chrous, some wonderful keys and guitar work and even though it is ten minutes long it positively flies by. Another highlight are Ronnie Stolt's soloing on 'Grail' and the instrumental 'Gossamer Strings' which really lives up the uplifting tag it is given in the sleeve notes.
Best thing about this album? It is only the first volume and we are promised the second volume soon, I for one can't wait for that! In the meantime this fine album will suffice.
****
Review by Jason Ritchie
---
| | |
| --- | --- |
| | Print this page in printer-friendly format |
| | Tell a friend about this page |
***** Out of this world | **** Pretty damn fine |
*** OK, approach with caution unless you are a fan |
** Instant bargain bin fodder | * Ugly. Just ugly
get ready to rock is a division of hotdigitsnewmedia group