SUPER ADVENTURE CLUB Avoid Zombies
Armellodie ARM10CD (2010)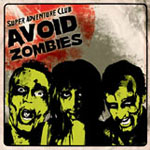 There's an unwitting sense of the ironic in Armellodie Records Press Release for the 'Avoid Zombies' album. On the one hand we are exhorted to forget about trying to apply the correct musical genre to a band that stylistically pushes the envelope, while the rest of the accompanying Press Release spend its time doing precisely what we have been told to avoid. That said you can understand why both Super Adventure Club's PR person and the listener might strive for clues and moments of clarity and meaning, if only to understand the occasional jokes and clever word plays of which there are plenty.
Super Adventure Club are not so much about concepts and songs as moods and nuances based around little tensions, frustrations and releases by turns. From the opening impressionist 'Hip Hop Hot Pot Pot Noodle' - a post modern return to Zappa's 'Dangerous Kitchen', through the quirky eclectic 'Pick Up Sticks', via a relationship song fired by sexism ('Sheila's Stabliser-Wheels') to another Zappa style indulgence, the parodying of Monster Movies - in this case critiquing of the classic horror film 'Nosferatu' - and juxtaposing that with the phallic humour of 'My Other Brain', Super Adventure Club's music is as angular, occasionally dense and certainly as spiky as their lyrics.
Indeed, on 'My Other Brain', they come close to the expressionist technique of Sprechgesang, while on the only instrumental on the album 'Think Like A Fish' they steal their dense unremitting instrumental darkness and structural dissonance from Beefheart's 'Hair Pie' ('Trout Mask Replica').
Almost as if tempting critical reproach the album finishes on the provocatively titled 'Pointless Self-Indulgence', but as with the clever lyrics of this song the majority of colourful metaphors - 'My Other Brain thinks in sixes and nines some of the time' (perhaps oral sex by any other name) - Super Adventure Club have enough of their own ideas and waves of intense musical expression to plough their own musical furrow. Moreover they have a brusque self confidence and display an ever present sense of humour (if not of the absurd) to overcome cheap comparisons and stand proudly in the vanguard of contemporary experimental music.
'Avoid Zombies' by all means but don't dismiss the album of the same title as mere B movie cannon fodder.
****
Review by Pete Feenstra
---
| | |
| --- | --- |
| | Print this page in printer-friendly format |
| | Tell a friend about this page |