Just witnessed your best live gig?.. send us a review!
STRYPER,
Islington Academy, London 24 January 2010

Photos by Noel Buckley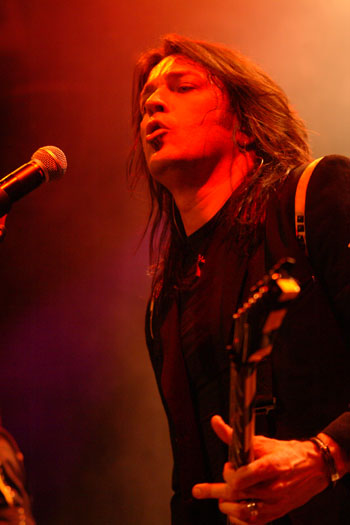 Stryper last played England on a one off date at Hammersmith Odeon back in 1987 on the 'To Hell With The Devil' tour. Since then it's been to hell with the United Kingdom.
Cancelling a date at the Marquee in 1991(Although the lord did bless me on that occasion, as I went to the Marquee to get a refund on my tickets, I noticed a little poster the staff was putting up on the wall which said Foreigner -tickets on sale now (but that's another story.)The band have visited European shores in recent years, but not even Noah's ark could bring the band over to England's green.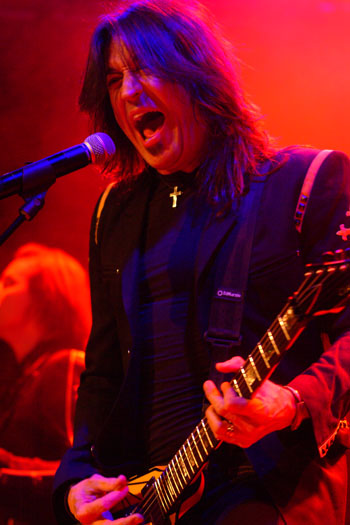 So finally these Onward Christian Soldiers under command make a welcome return to the capital on a holy Sunday night. Some friends of mine wanted to crucify me for attending this gig, but whilst the devil may hold the best tunes, there was a time when Stryper were shining a bright light and converting us over with songs that made us look upwards.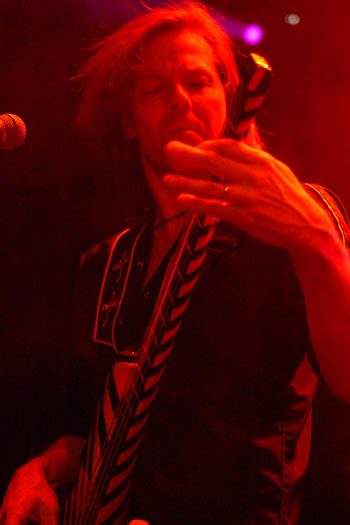 The attack of the yellow and black outfits have been left behind at customs with the big hair, and now a suave looking Stryper are about to deliver for us a full on rocking set dropping the balladry hits such as 'Honestly', 'Believe' and the sloppy 'Always There For You'.
It is a testament to the band that the original line up are touring together again. Michael Sweet's voice still reaches the high ranges in a set that recalls those early classic albums and new tracks from the recently released 'Murder By Pride'. Only the LP 'In God We Trust' gets dropped from the hymn book.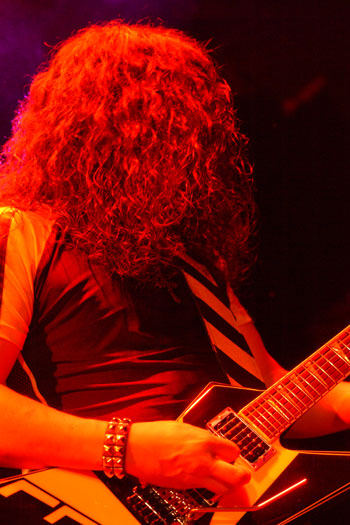 'Calling On You' and 'Free' got my psalms waving in the air, I'd forgotten how good a guitarist Oz Fox is. One thing I didn't understand was a blasphemous version of Judas Priest's 'Breaking The Law', also recently done by Doro too, followed by another cover, Boston's 'Piece Of Mind' which is also on the new CD, but at least there is a reason behind this as Michael Sweet joined Boston's touring band after the death of Brad Delp.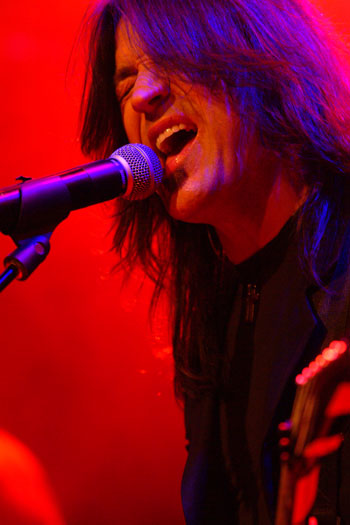 Stryper are infamous for throwing bibles into the audience, but unlike at a Marilyn Manson gig where i got a couple of torn out pages from the bible, it was nice this time to get myself a full copy this time, so I can now find out what happened in the end.
I did chuckle at the amount of people throwing devil horns to the excellent 'To Hell To The Devil' but it was all in spiritually good taste.
So glad I finally got to see Stryper after all these years, Jesus Christ , they were good, they nailed it.

Set list : Soldiers Under Command / Murder By Pride / Loud & Clear / The Rock That Makes Me Roll / Reach Out / Calling On You / Free / More Than A Man / Breaking The Law / Piece Of Mind / 4 Leaf Clover / Open Your Eyes / All For One / My Love I Always Show / The Way
Encores ... Sing Along Song / To Hell With The Devil

Review by Mark Taylor
Photos by Noel Buckley
---