STRATOSPHERE Fire Flight Escape Music (2010)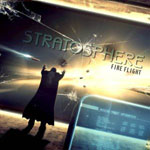 Stratosphere are centred around keyboards player Jeppe Lund and on vocals he has roped in the legendary Goran Edman (Kharma/Vindictiv/ Malmsteen). One notable new name is guitarist Jonas Larsen, who really gets to shine on the album's two instrumentals, namely the title track and 'Rendezvous'. Both are not a million miles away from the instrumentals Ritchie Blackmore used to compose in his Rainbow days. In fact Rainbow's influence can be heard throughout much of the album.
'Russian Summer' and 'VIP' are the stand out songs, both have big choruses and enjoyable solos midway through. Full credit to Jeppe Lund as he doesn't allow his keys to drown out the rest of the band and if anything perhaps a couple more solos from him would have been good.
The rest of the album is okay but nothing really grabs the listener's attention. It is not bad just a case of heard much of this all before, although Goran Edman's vocals ensure it doesn't become too much like background music.
***½
Review by Nikk Gunns
---
| | |
| --- | --- |
| | Print this page in printer-friendly format |
| | Tell a friend about this page |
***** Out of this world | **** Pretty damn fine |
*** OK, approach with caution unless you are a fan |
** Instant bargain bin fodder | * Ugly. Just ugly
get ready to rock is a division of hotdigitsnewmedia group