Convincing profile of the Wonder Boy...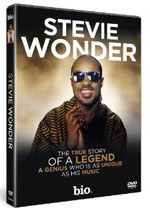 'Stevie Wonder' is by far the best of this Go Entertain DVD series of rock star profiles. The format may be the same and the talking heads still range from the reverential to the annoying, but what comes loud and clear is both Stevie's 'driven' personality and his incredible natural musical ability. The DVD charts his both these personal and musical strands and their ultimate resolution in the shape of Stevie Wonder as a positive political force.
Smokey Robinson concludes at the end of the film, 'Stevie Wonder is one the best musicians in the world, Steve Wonder has one of the most versatile musical catalogues that there has ever been from one musician.'
That being the case, it is the job of a DVD like this to outline the highs and lows of a tough life and a genius in the making. And for the two thirds of the DVD, the producers just about pull it off before settling for a newsreel style appraisal of his latter years as a political force.
Unlike some of the other DVD's in the series that try to make a coherent story from a paucity of audio/visual material, the story of Stevie Wonder is something that doesn't really need a lot of embellishment. A blind child star who grew up on the road in the shadow of poverty and an abusive father, is a story that needs telling with as much compassion as analytical rigour.
And while we never quite scratch the surface of his psyche, there's just about enough biographical evidence to illustrate the inner belief of an artist who rose from being cast as a Ray Charles tribute to becoming one of the most creative forces in contemporary music. You could argue he hit his peak with the platinum albums, 'Innervisions', 'Fulfillingness First Finale' and 1976's 'Songs in the Key of Life' And certainly the DVD is best on the early years leading up to this period, which a voice over describes as Stevie overcoming 'setbacks and emotional trials'
Early on in his career, Motown boss Berry Gordy said 'the boys a wonder', and it wasn't long before he took on the moniker Stevie Wonder.
In truth the talking heads aren't that great but the story does flow, outlining Wonder's musical versatility and his changing persona as an ambitious creative artist willing to let his Motown contract run down to invest his own money into his music.
The path from a teen star to a self produced artist, who also wanted to write his own material, is the story of a nascent star breaking the old artist/label relationship. It represented a major shift in the way the industry dealt with artists but one that is predictably only fleetingly mentioned in passing. But then again if you like your biopic presented as bullet points perhaps this is for you.
Having reached his creative peak in mid 70's the Stevie Wonder story winds down slowly with a perfunctory and deferential summary of his commercial success in the 80's - McCartney at least gets a mention - and spends a considerable time outlining his political goals. There's mention of Stevie's fight for a Martin Luther King national holiday, and his work for both famine relief and the ending of apartheid. In short, it's an account of Stevie Wonder as the mature citizen, or as the voice over suggests, 'A pop star as a political force'.
It's a shame then that having spent nearly a third of the film on this latter phase of his life that there is no analysis of his emerging political consciousness, other than what is hinted at with broadest of brush strokes.
But no matter, 'Stevie Wonder' is an unchallenging and respectful reprise of a major musical and political figure of our times and fulfils all the expectations of a mid price release.
****
Review by Pete Feenstra