STEVE VAI Where The Other Wild Things Are
Favored Nations (2010)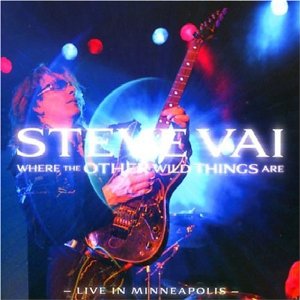 This is the companion CD to the DVD package released in 2009 and reviewed elsewhere. The 12 tracks were not included on the separate CD release 'Where The Wild Things Are'. In truth, you have to be strong willed or a guitar fetishist to really appreciate what's on offer here.
Thirty years in the business in 2010, Vai's playing is still superlative, a masterclass in guitar technique, and he is aided by an excellent band (including the unfortunately named Dave Wiener on guitar and sitar). Whilst I can admire that technique I have to say Vai is sometimes too technical and less emotional than perhaps he should be.
Whether we really need to hear the violin duet again - which is less Vai and more Alex DePue and Ann Marie Calhoun (one-time musical cohort of one Ian Anderson) - is debatable and the on-stage exuberance ('Beastly Rap') is better served by the filmed version although I have to say this 'comic' interlude wasn't so good on the DVD either. And 'Earthquake Sky' is essentially a showcase for Jeremy Colson (aka drum solo alert).
DePue and Calhoun add a neo-classical twist to the overall Vai-be. But with classic tracks like the epic 'For The Love Of God' and the funk of 'Answers' you can't really go too far wrong. Vai does still push the envelope for guitar music and guitar fetishists will approve although - on balance - the first CD is the one to get if you must.
***
Review by David Randall
DVD review
---
| | |
| --- | --- |
| | Print this page in printer-friendly format |
| | Tell a friend about this page |
***** Out of this world | **** Pretty damn fine |
*** OK, approach with caution unless you are a fan |
** Instant bargain bin fodder | * Ugly. Just ugly
get ready to rock is a division of hotdigitsnewmedia group