STEVE SENES De-evolution Of Theory DR2 Records (2010)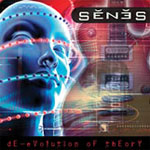 Just when you thought it safe to pick through some of the classic early Satch albums - on the back of HIS latest release - yet another new kid appears on the block. Steve Senes seemingly appears from nowhere although in 2009 he was voted Guitar Player (USA) Magazine's Superstar. And from the plaudits on his website you could believe he is the next big thing in this genre.
The true test of a good guitar instrumental album is repeat-playability. Even Satch sometimes struggles in that respect although admittedly he seems to have found new durability with 'Wormhole Wizards'.
Of course the Shadow of Satch looms large over this album but what the aficionado will listen out for is a guitarist's true 'voice', manifested in tone, phrasing or sheer musicality.
Senes may leave the average listener rather non-plussed. After the two high-energy openers, 'Swami' and 'Greaseball', Senes sensibly slows things down for the mid-tempo 'Ruth' but this acoustic-led piece is somewhat predictable.
Ditto the follow-up track 'Highball'. (What is it with 'balls'?) A racy pace, harmonised guitars and a breakdown riffy section cannot redeem this one. Overall, and to my ears, some down-tuning may have given more punch and darkness to the riffs.
At times, as with similar debut albums, there is a sense that Senes is trying too hard and playing too many notes when space is always a useful commodity. There's also quite a wide diversity of styles, again a feature of such debuts, but this can sometimes leave the listener overwhelmed or confused.
For example, 'Cop Show' is weird - a me-too seventies TV theme complete with horns and Fender Rhodes that reminds me of - dammit - Dennis Coffey. It's good fun if ultimately pointless. 'Jam Bomb' is straight out of the Satch school of quirk but the chorus reminds me of John Jorgensen when in Hellecaster mode.
For now, I think I can still rummage through the racks and pick out 'The Extremist' with confidence: 'De-evolution of Theory' sounds just too diverse and too derivative to be of wider significance.
***
Review by David Randall
| | |
| --- | --- |
| | Print this page in printer-friendly format |
| | Tell a friend about this page |