STEVE MORSE & SARAH SPENCER Angelfire (2010)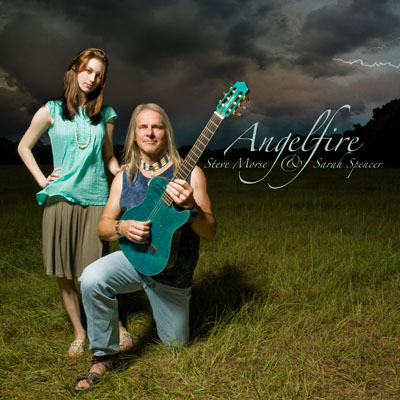 What is it that attracts rock guitarists to non rock female singers? Steady boys!
Steve Morse, for the last 15 years the guitarist with Deep Purple, and with 44 albums under his belt, is the latest to take a step off the edge of his world to co-write a vocal album (for the first time in his career) with a young, 22 year old, female singer songwriter from Florida.
Sometimes such collaborations can be wonderful side projects, for example Steve Rothery's excellent Wishing Tree collaboration with Hannah Stobbart. At the other end of the spectrum, you have former Purple guitarist Ritchie Blackmore, whose Blackmore's Night project with is wife Candice Night was, for many, more a case of falling off the edge.
Sarah Spencer's background is as a budding piano and guitar playing singer songwriter. As a teen she wrote operatic pop and was scheduled to star in a VH1 reality programme about musical teenage prodigies. The programme was never made, but when her Dad asked Morse for some career advice this collision of generations was set in motion.
The result is a subtle fusion of rock, jazz, bluegrass folk and pop. But it's predominantly a fusion of Morse's classical playing and Sarah's pure folk vocals. Engineered and produced by Morse, and with Dave LaRue and Van Romaine providing bass, and drums/percussion respectively, it's a beautifully performed and captured piece of work.
Morse's abilities have never been in question and while he dusts down his electric guitar only occasionally here, Angelfire being a predominantly an immaculately played acoustic based outing - the sort of virtuosity you might expect of someone like Jan Akkerman in his immediate post Focus period. At the same time Sarah, provides an understated at times almost hymnal counterbalance, bringing to mind the sort of territory into which Steeleye Span once strayed.
Both artists can be proud of the result - ethereal folk that repays repeated listens. Just don't expect any power chords.
***½
Review by Pete Whalley
---
| | |
| --- | --- |
| | Print this page in printer-friendly format |
| | Tell a friend about this page |