Just witnessed your best live gig?.. send us a review!
STEVE CONTE
London Water Rats, 22 July 2010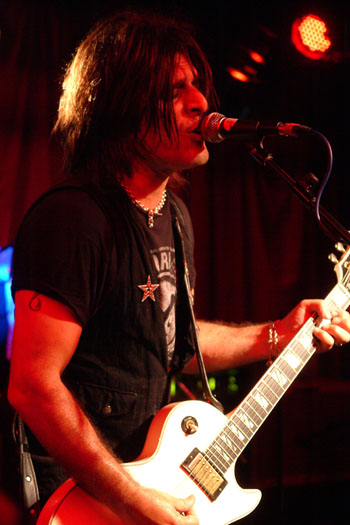 Recently seen playing with the reformed New York Dolls and in Michael Monroe's new solo band, Steve Conte was in town to play some rare live solo dates. Playing songs from his recent released and critically acclaimed 'Steve Conte And The Crazy Truth' album.
For some reason, the London date had five support bands before Conte graced the stage and on a hot evening there was no way was I going to stay inside this sold out sweat-box for the entire evening. However I did get here at an early time to see The Virginmarys who were playing a low-key London date to keep the media darlings happy before home time.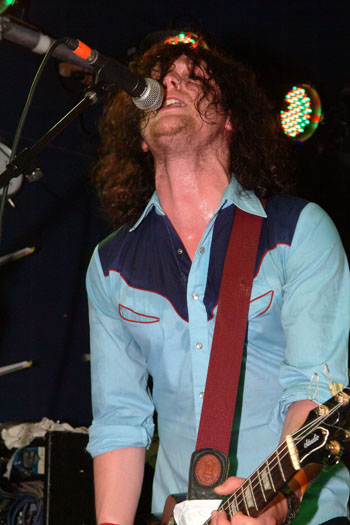 I was impressed with The Virginmarys after witnessing their set at this years Download Festival and the band were on explosive form again tonight.The power trio blasted their way through with selections from their debut 'Cast The First Stone'. Drummer Danny Dolan bashes his way through 'Bang Bang Bang' with the most looniest drumming not seen since the days of Keith Moon.
Singer/guitarist Ally Dickaty hunches down on the mic whilst Matt Rose stamps the floor with every chord.The band sound like the White Stripes being blended through a meat grinder. You can check them out for yourselves later this year when they support Skunk Anansie and also again at the Hard Rock Hell Fest.
Nipping outside for a fag and a chat it was a joy and a privilage to meet singer songwriter Frankie Miller. The Glasweigian had a string of hits in the seventies and was a big influence on Phil Lynott and Bob Seger. Although he suffered from a brian haemorrage in 1994 which left him unable to have a conversation, he was still fully coherent and able to raise a smile. A real pleasure.
The Melodramas were special guest of Conte on this tour after they supported the New York Dolls and have also grabbed the attenton of Foo Fighter Taylor Hawkins for a support slot.
The band play a commercial garage mixture of The Strokes, The Specials and The Cure. They've just played in Vietnam and China and are about to embark on a tour of Australia. A name for the future.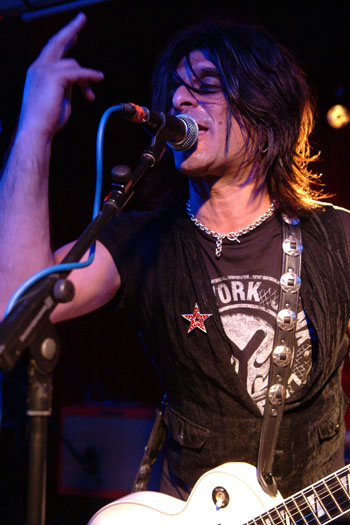 Steve Conte was without his Crazy Truth band tonight and was instead joined by Dutch musicians Jeroen Polderman on drums and bassist Jozz Verheijn. The fans here tonight were treated to a very special show indeed playing every track from the Crazy Truth album plus a few wise covers.
Opening up with a trio of tracks from his last album it becomes apparent that these songs could easily belong any of the last two New York Dolls albums.
A fine cover of Eddie Cochran's 'Summertime Blues' followed which steam rolled down the tracks like a train pumping out happy clouds of smoke in an old Walt Disney cartoon.
The stakes were raised for 'Texas T' which has an easy to learn sing along chorus. Paul Ronney Angel from The Urban Voodoo Machine joins Conte on 'Busload Of Hope' for some harmonica playing fun. The wonderfully titled 'Strumpet-Hearted Monkey Girl' has a rockabilly feel to it.
Another guest was Spanish flamenco guitar player Raimundo Amadur (a major pull in his homeland.) joins Conte for some drawn out jamming on 'Indie Girl'. The doo-wop feel of 'Gypsy Cab' should belong on a Quentin Tarantino soundtrack.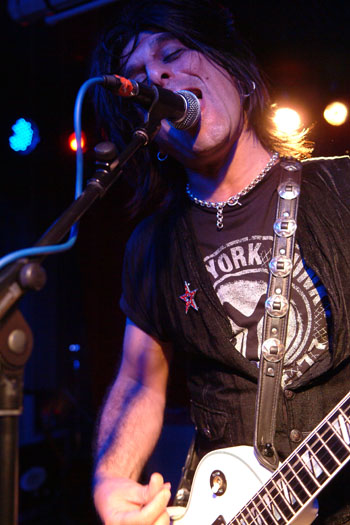 With the time way past midnight there was still time for encores. Angel joined the band once more for a run through of 'Pills' a track originally written by Bo Diddley that was covered by the New York Dolls on their debut.
Steve Conte paid tribute to his former colleague Willy DeVille with a great cover of 'Venus Of Avenue D' slowing the pace down completely at the end with a traditional Spanish number 'El Lago' along with Raimundo Amadur and Lin Cortes.
A surprisingly great gig which was worth missing the last tube home for.

Set list: This Is The End/ The Truth Ain't Pretty/ Get Off /Summertime Blues/ The Goods Are Odd/ Texas T/ Her Highness/ Busload Of Hope/ Strumpet-Hearted Monkey Girl/ Indie Girl/ Gypsy Cab/ Junk Planet...Encores: Pills/ Venus Of Avenue D/ El Lago


Review by Mark Taylor
Photos by Noel Buckley
---