STEPHEN DALE PETIT The Crave 333 Records (2010)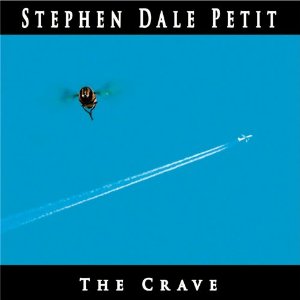 So what's in a name? Ask Brit Cal guitarist Stephen Dale Petit. Whether cast in a role as 'New Blues Pioneer', the 'Great White Hope', or pushed in the vanguard of 'Maximum New Blues', SDP has cooked up his own blues based gumbo and added some fresh spices of his own. 'The Crave' is his follow up to the groundbreaking debut 'Guitararama' and he's filtered the results through some top line production to see what comes out the other side. The new album even comes with a mision statement;
"The reason I am on the planet is to play blues guitar. I'm on a mission to spread the word about the blues and about the guitar - especially to young music lovers."
And yet for all the talk of a 'New Blues Revolution' and reaching out to a new generation of players (SDP undetook a university blues lecture tour in support his gigs), there's simply too much going on to assimilate in one helping.
Sure there's a raw White Stripes bluster and plenty of fiery passion as Stephen opens with a bang on an updated Yardbirds riff and a Pretty Things style '3 Gunslingers'. And he enjoys a superb Hip Hop meets big Rock production moment as he drags the Tupac /Dr Dre's 90's hit 'California Love'into the present. Stephen cleverly uses the closing refrain of 'California keep on Rocking' as the main chorus in a post Zeppelin style big wall of sound complete with a neat string arrangement, huge drums and imperious bv's. Pete Davis's keyboard riff perfectly tops and tails the the big hitting album highlight.
Were these tracks a reliable barometer of the work as a whole from the adventuous production to the contemporary arrangements then he'd be half way to a great album But 'The Crave' is a shade too diverse and a tad too overbearing. Stephen's limited vocal range is offset by a fiery guitar style and both contrasting elements frequently bubble to the surface. 'Let There Be More Light' for example, is a slight conceit predicated on a gospel chorus and slide break that the rest of the song doesn't really support.
Also, what should we make of the frankly bemusing guitar driven clutter of 'Gun Song'on which Willie Dixon's barely disguised 'Wang Dang Doodle' meets an equally thinly veiled 'Roadhouse Blues' by The Doors and stocatto Zeppelin riffs full on. The confusing mid-number crescendo points to a paucity of structure as he almost loses his way.
But this is an album that does have substance and focus, if not an overriding producer to shape it all up. As a result on tracks like 'Judgement Day' Stephen sounds like an edgy punk singer with a gospel backing, while his original approach to the trad-blues covers of 'Crossroads' and the lushly produced 'As the Years Go Passing By' are slightly over ambitious.
Perhaps the album title 'The Crave' holds the key and might be best viewed as a metaphor for both addition to substances, blues, life, who knows? Either way 'The Crave' is a personal, idiosyncratic take on the blues and he's unafraid to go into dark places as evidenced by the closing primal scream of 'Gun Song', or to reach for moments of more considered reflection as on of the closing 'Hole in My Soul.
Sometimes Stephen's songs seem overblown while the flash back to Brit Blues on the cover of 'Need Your Love So Bad' is almost redundant. But there's a constant willingness to experiment as on the slide-led intensity and eastern flavoured intrumental 'Open'. And who couldn't be drawn to the rough-edged and ragged Stonesy influenced 'Slide' which features Mick Taylor, or the up in the mix booming Jaggeresque chorus of 'It's All Good' .
There's even some welcome restraint on the down home feel of 'Looking For Trouble', on which delivers his best vocal by far ('California' excepted). And by the time of the Bo Diddey beat of 'Voodoo Lover' the whole caboodle starts to make sense. You can almost feel the ebb and flow and the light and shade of a meandering work that captures wracked emotions through a wide variety of licks, chorusses and studio trickery. Perhaps SDP has touched on the missing link between the British Blues invasion and the here and now.
The closing 'Hole in My Soul' offers another partial revelation into his psche and is notable for a lovely segue from an intuitive string arrangement into one of Stephen's best solos on the album. . It is this moment of real feel, clarity and a keenly observed dynamic that suggests 'The Crave' is more than new wine in old bottles. You just have to work that bit harder to uncork the vintage.
****
Review by Pete Feenstra
---
| | |
| --- | --- |
| | Print this page in printer-friendly format |
| | Tell a friend about this page |