STEEVI JAIMZ Glam Damnation Swedmetal Records (2010)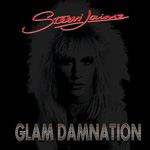 Following the successful release of last year's 'My Private Hell' album, former Tigertailz frontman Steevi Jaimz follows this up with 'Glam Damnation' - a 13 track compilation containing tracks from assorted bands and projects throughout his career. Whether it be early band Krash K.O, the post-Tigertailz projects St Jaimz, War Party or Jaimz Gang, there is an undeniably rock n' roll theme running throughout the album.
From a sound reminiscent of early Poison ('Cat On A Hot Tin Roof') or Motley Crue ('Talk of The Town') to heavier tracks like 'One Romancy' and 'Now You're On Your Own' - and back to the very '80's sounding 'Shaken Not Stirred', it is good to see these tracks come out of the archives at last. Then we have 'Sorrows Got A Hold On Me', a slower, melodic and mature sounding song that, for a moment, reminds me of Ace Frehley's 'Fractured Mirror'. Other highlights include 'Gods Will Fly', 'Kick That Habit' or the Tigertailz like 'Take Me To The Limit'.
The tracks from the St Jaimz 'Kick That Habit' EP were produced by Thin Lizzy's Scott Gorham but, no matter how good these sounded, even this couldn't help get the band a better deal. It's said that two things stopped Jaimz becoming the bigger star that he deserved to be- the fact that he wasn't American and his reputation for rock n' roll excess. That said, the well received 'My Private Hell' should see that lack of success evaporate and so here is to much more to come from Steevi Jaimz.
****
Review by Pete Feenstra
---