Just witnessed your best live gig?.. send us a review!
STATUS QUO
Brentwood Leisure Centre, 11 November 2010
Photos by Noel Buckley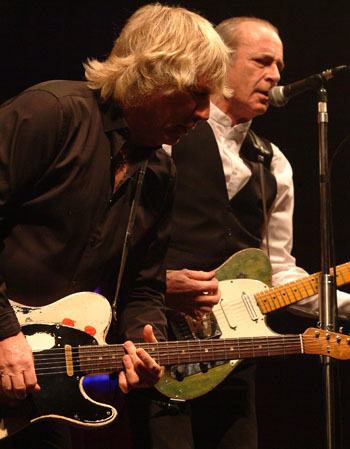 Only a couple of weekends beforehand at a rock disco after the Firefest, I was sitting down enjoying my beer just listening to the DJ play some favourite rock tunes when I suddenly burst into life as soon as he put on Quo's 'Down Down' quickly followed by 'Caroline'.
My hands were on my hips and I was strutting from side to side in perfect unison with my female friend who wouldn't have normally dared dancing to the Quo.
And therein lies the rub, love them or loathe them you can't deny yourself from liking the Quo with their infectious good time jiving rock 'n roll. Your foot starts tapping without you even realising it. So why don't we do it again and again?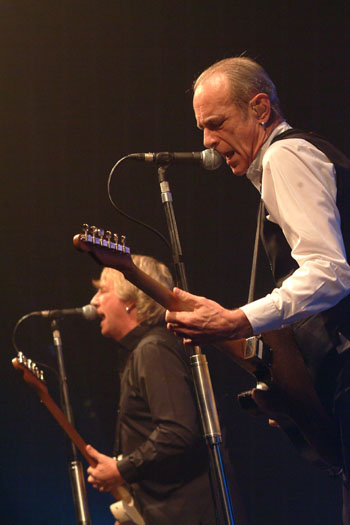 So it's a must to head off to the depths of Essex to see the mighty Quo in live action. Tonight is the second night of the 'Quo Quid' tour which will see the band coining it yet again from their legion of Quo Army fans.
The Brentwood Leisure Centre is not exactly my first choice to attend a rock concert. My trustee partner in grime, photographer Noel Buckley and myself feel a little out of place here at a leisure centre. The only time we do a bit of keep fit is running for the bus.
Not only is the place packed with Quo fans but also many are here to use the amenities, including some outside playing football on the floodlit astro turf, joggers running around, some using the swimming pool (placed nicely next to the bar.) or over-sized women trying to keep themselves in their in leotards.
Buckers and myself felt out of place and out of breath watching everyone so the first thing we do is stand outside and light up a fag before heading to the bar.
Support for the first half of this tour comes from The Crave who some of you may remember from supporting Deep Purple last year. The young rockers win themselves many new friends with their happy-go-lucky rock friendly Nickelback infected rock. I only caught the last two numbers but will definitely see them again.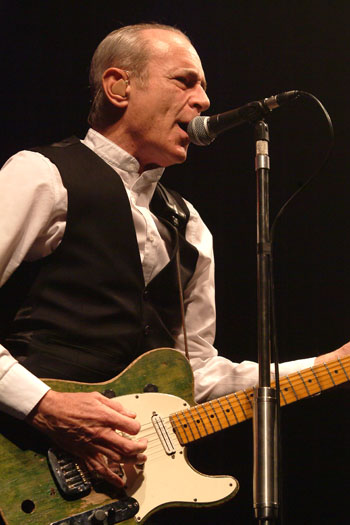 As Status Quo came on stage I immediately thought that maybe they themselves had been running on the leisure centre's tredmills as the band were all wearing brand new white designer trainers.
All eyes are on Rossi and Parfitt as they strum the chords to 'Caroline' before the band give it some oomph. From then on it's all Quotastic.
There are so many classic tracks that some are short changed into medleys, but full versions of tracks like 'Forty-Five Hundred Times' and 'Mystery Song ' may give Parfitt a heart attack if played at their full speed for the complete length. A hundred metres was enough for the leisure centre tonight.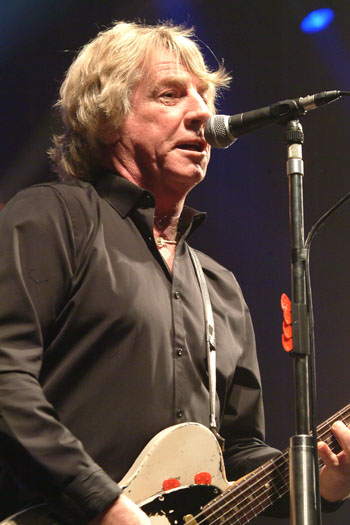 Latter day tracks like 'Beginning Of The End' and the swinging 'The Oriental' sit comfortably with any of those seventies greatest hits. One golden nugget was dusted down: the chilling 'For You ' from 'Rockin' All Over The World' LP was a welcome addition.
From then on it was heads down all the way with all the classics you'll expect to hear at a Quo show. I personally would love to see some Cogs in the wheel or Lancasters flying around but nothing was gonna spoil the party. You should check out the band on the rest of the tour and you too can be in the Quo army now.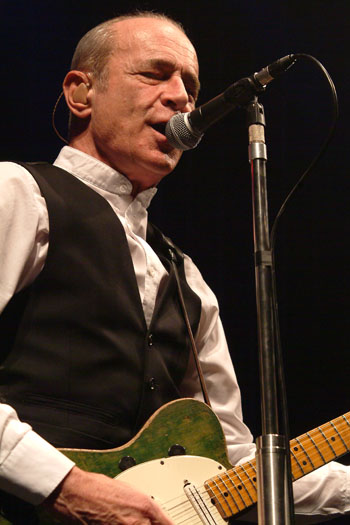 Set List : Caroline/ Something 'Bout You Baby I Like/ Break The Rules/ Mean Girl/ Softer Ride/ Forty-Five Hundred Times/ Rain/ Beginning Of The End/ Mystery Song/ Railroad/ Spinning Wheel Blues/ Wild Side Of Life/ Rollin' Home/ Again & Again/ The Oriental/ Creeping Up On You / For You/ In The Army Now/ The Killer(drum solo)/ Paper Plane / Roll Over Lay Down/ Down Down/ Whatever You Want/ Rockin' All Over The World...encores: Don't Waste My Time /Bye Bye Johnny



Review by Mark Taylor
Photos by Noel Buckley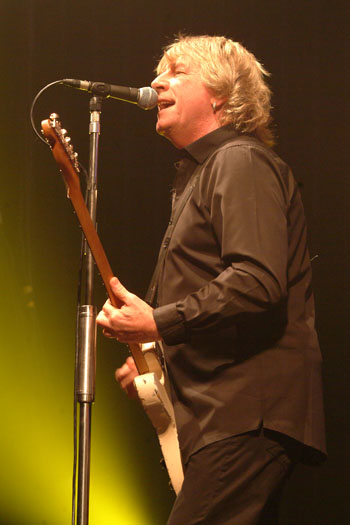 ---