STATUS QUO Live At The BBC (7CD & DVD) Universal (2010)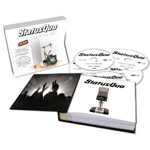 Before Status Quo had their big bust up with the BBC about playlisting their singles, they had a good working relationship right from the band's inception. And as this set shows, it's a good and fruitful working relationship almost as long as the Quo's career.
This set covers pretty much everything that the BBC own that still exists, and in some cases where tapes were lost or wiped, tracks have been restored from fan recordings. So there isn't much of note not here. From sessions to entire concerts, this is a greatest hits and more, a whole lot more.
From early boogie of Caroline, Whatever You Want and Down Down to In The Army Now, to opening Live Aid with Rockin' All Over The World, Status Quo have had more hits than most.
And for those of you who don't want absolutely everything, with multiple takes on several tracks, there are a 4CD/DVD box and 2CD compilation, which may serve the average listener better.

Original drummer John Coghlan took time out from touring with his own band (he also currently plays with The King Earl Boogie Band) to help with the box set's promotion, and talks to us here.


JG What memories do you have of recording these tracks at the BBC?
JC It was such a long time ago, we were always gigging and it was just another gig. We did the Paris theatre a couple of times. I listened to some of these recordings more recently and the band were very different.
Listening to it now, I think the band were better without those keyboards they had on the early stuff.

JG Were the BBC supportive in those early days?
JC Yeah I think so. But you have to be on time. We got a bollocking once when we turned up late for Top Of The Pops, the producer had a right go at us, for holding the crew up, we nearly didn't get to do it. Top Of The Pops was very important, it helped you sell records.

JG Were you surprised at how much you recorded there?
JC Oh Yeah. We were told that some had been wiped, the BBC often used tapes twice then taped over them.

JG Did you ever actually play live on Top Of The Pops?
JC Originally we mimed, it was too much for them to get the recorded sound live, when you've got 5 or 6 bands on.
They later bought live vocals in, but it was easier for the band and crew. I was a huge fan of Top Of The Pops, we always wanted to get on, have a party, go to the bar. I always watched it too, I liked looking out for my favourite bands, such a shame it's gone now.


But the full 8 disc box set is exhaustive, covering every step of the band's career. Never underestimate the power of the BBC to promote and make and break bands, and when so many DJs and producers at the BBC championed the band during the 70s, success was inevitable.
Before Status Quo, there was The Status Quo and a more psychedelic pop, with flowery shirts to match. And before them, Traffic Jam and The Sceptres. The scenes from Spinal Tap and the flowery early versions of the band was probably influenced here. And this set starts from, well, the start.
Disc One is 'In Session', where performances were effectively live in the studio, and starts off with five tracks by Spectres from Saturday Club 1966, including 'Gloria' and 'I Who Have Nothing'. Psyche pop its finest, although the band still sound like kids (in fact they probably were). Four more by Traffic Jam follow (Saturday Club 1967). By January 1968 and The Status Quo were keeping the flower power going strong, and 3 tracks from David Symonds included the hit single 'Pictures Of Matchstick Men'.
The disc completes the 60s, with various David Symonds and Saturday Club sessions, featuring the likes of 'Gloria', 'Ice In The Sun' and 'The Price Of Love' (twice). It is rounded up by four tracks Dave Lee Travis 1970 that features 'Down The Dustpipe', which all documents the band's transition from flower pop to boogie well.
Disc two kicks off with more DLT 1970, and then to Sounds Of The Seventies 1972 and with 'Paper Plane' and 'Mean Girl' it's the start of the boogie many will know and love.
A John Peel session from 1973 is followed by Steve Wright 1989, a good version of 'Caroline' and modern take on 'Down The Dustpipe'. Ken Bruce 2005 adds 'Rockin' All Over The World' an d 'Whatever You Want'. But yes they had to wait a while between sessions.

JG Why the change of name from The Spectres to Traffic Jam then The Status Quo?
JC The Spectres was ok, but they changed it to Traffic, which clashed with Steve Winwood's band of the same name so it became Traffic Jam, which I didn't like.
The manager said what about The Status Quo, which I didn't like either, but it was ok when we started having the hits. They dropped the 'The', and Status Quo became a household name.

JG Was the move from psychedelic pop to blues rock intentional?
JC Yeah, well what I think happened was we had this pop direction and had hits like 'Pictures Of Matchstick Men' but when the hits starting drying, you have less hits you get less gigs, so Bob Young (roadie, harmonica player) suggested we grew our hair, lost the flowery shirts, played boogie and reinvented ourselves. We did and it worked.

JG Is there much BBC material not included on the set because of tapes being lost or wiped?
JC I don't know it was such a long time ago. I think fans helped out on some stuff. I've forgotten most of these sessions until I played the CDs more recently. We sounded about 12 years old on some of them. I've not seen the DVD yet, that will be interesting.

JG How involved were you in the compilation of this box set?
JC I wasn't, really, until they phoned me up to help with the promotion. I didn't get asked beforehand what order I want the tracks in or anything like that.

JG Are you ever surprised by the commitment and loyalty of your fans?
JC Oh yes, they're fabulous. My band played Holland recently, a fabulous gig. All these old fans came from Belgium and Germany, they're the best fans in the world. I play a lot, with my own band as well as the King Earl Boogie Band.
Status Quo gigs are like a party, the band and fans get the bug off each other. You saw that when we played Top Of The Pops.

JG Which BBC DJs did you enjoy working with the most?
JC All of them. Jimmy Saville, Dave Lee Travis was great, Ken Bruce and Steve Wright were great too. John Peel supported is a lot, he was a great supporter of Quo.

JG Any last words to your fans?
JC Buy this set. It is a must for Quo fans and will make a great Christmas present. It's got so much on there.

Disc three and it's onto the BBC Concerts, opening with the Paris Theatre in 1973. Alongside 'Paper Plane' and 'Roadhouse Blues' are lesser known tracks like 'Junior's Wailing' and 'Railroad'. Five tracks recorded in Birmingham for 1982's Friday Rock Show follow, which is followed with 12 tracks on disc 4 completing the entire concert. 'Roll Over Lay Down', 'Down Down' and 'Rockin' All Over The World' mix well with 'Hold You Back' and 'Bye Bye Johnny'. These show that, just like some of the sessions, not only how much fun Status Quo were, but how much fun they had onstage.
Disc five is the entire Wembley Arena 1988 show, disc six Sutton Park Birmingham 1992 'Party In The Park', and disc seven Brighton 1996. All three sets show that while there are some staples always present and correct, other tracks are mixed around, so a few years apart you get a different set that keeps a few crowd pleasers.
Disc eight is a DVD that opens with the Birmingham 1982 show, and from the opening 'Caroline' the crowd are bobbing, and the Francis Rossi and Rick Parfitt are either stancing like boogie monsters or running round like it's a party. In fact, given the crowd's response, it is just that, a party. This is the broadcast version, so it has the voiceovers from (sounds like) Tommy Vance too.
Of much interest is the complete(?) Top Of The Pops performances. Opening with 1968's 'Pictures Of Matchstick Men', the band look like Syd Barrett and Roger Daltrey at their floweriest.
Jump to 1973 and 'Caroline' and 1975's 'Down Down; boogie, bouncing crowd, long wavy hair, denim waistcoat, dodgy BBC graphics, this is the Status Quo we all grew up with.
Here, as a four piece (with Coghlan and Lancaster), the guitar boogie ruled and we all knew about it.
Into the 80s and a John Peel, the band still go down a storm, with some banging piano added. 17 tracks in all there.
Then it's a compilation of leftovers, including an Old Grey Whistle Test interview, 'A Mess Of The Blues' from Saturday Superstore and 'Marguerita Time' from the Little & Large show (yes really!) are just some of the vintage clips.
Quo overload, or a Quo fan's dream, and with compilation options make it more saleable to the more casual fan too. More bands need to have this reissue treatment.
And like them or not, there is no denying Status Quo are a British institution, and this is the proof. 40 years and they are still searching for that fourth chord.
Completely overblown, but isn't that what box sets are all about?
*****
Review by Joe Geesin
---
| | |
| --- | --- |
| | Print this page in printer-friendly format |
| | Tell a friend about this page |