STEVIE RAY VAUGHAN Couldn't Stand The Weather Deluxe Ed. Sony Music (2010)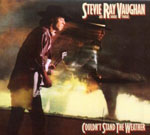 There's nothing quite like the element of surprise to breathe fresh life into a familiar album. And so it is with the advance promo pack of Stevie Ray Vaughan's 'Couldn't Stand the Weather: Deluxe Edition', on which the accompanying 'Live in Montreal' version of the title track finds its way on to the studio album, and vice versa. I'd also forgotten about Stevie's take on 'Boot Hill' which is lyrical re working of 'Look On Yonders Wall', complete with the slide parts and a sizzling solo.
Either way, the die hard fans will probably buy this double set once again, even though they probably have the original, and for that matter both the re-mastered version and the double 20th anniversary legacy edition with most of the same bonus tracks and the Montreal live album.
Nonetheless, as time passes it's always enjoyable to fall back on a groundbreaking work. And that's exactly what 'Couldn't Stand the Weather' is, both in terms of establishing a new guitar hero at the time and more importantly breaking rock/blues to an altogether bigger audience. 'Couldn't Stand the Weather' was SRV's first platinum record while tracks like' Cold Shot' became one of the first rock/blues tracks to become a staple on MTV. And let's not forget David Bowie's contribution in co-opting SRV on to the commercial successful 'Let's Dance' album. It was barely a year later after leaving Bowie and cutting 'Texas Flood', that Stevie he hit pay dirt with 'Couldn't Stand the Weather'.
And this deluxe Edition is a timely reminder of just why it made such an impact. From the arresting guitar led instrumental 'Scuttle Buttin' which immediately sets the standard, through the stop-start funky cool of the title track, and into the career boosting, shuffle driven riffs of 'Cold Shot', Stevie was stepping in to the big time. 'Tin Pan Alley' is another enduring celebration of his delicate touch, with his crisp Double Trouble rhythm section pushing him all the way and into the more subtle areas of the jazzy inflected 'Stang's Swang'.
The largely familiar bonus tracks from the posthumous 'The Sky Is Crying' and two 'unofficially' unrealised tracks and alt. take, still impress. Best of all is the heavy duty shuffle of 'Look at Little Sister' and the slick rhythm to lead locomotion of Lonnie Macks 'Wham'. Then of course there's SRV's take on Hendrix which was a prefect reprise at the time of the God that gave us psychedelic rock/blues all those years ago. Stevie simply applied his own magic and repositioned Jimi in the forefront of rock world. The bonus track of 'Little Wing' is Stevie's making a Hendrix song all how own - some achievement when covering Hendrix - while the live version of 'Voodoo Child' in Montreal is that of a cooking guitarist and his road drilled band firing on all cylinders.
The original Montréal live session was spread over two vinyl albums and also included 4 other tracks of which 'Say What' , 'Mary Had A Little Lamb' and 'Rude Mood' are not included here. But clocking in at nearly 70 minutes the live cd offers enough good stuff to satisfy most fans and merit its five stars in spite of being largely recycled.
*****
Review by Pete Feenstra
---
| | |
| --- | --- |
| | Print this page in printer-friendly format |
| | Tell a friend about this page |