SPANDAU BALLET Reissues EMI (2010)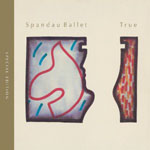 You may well say "what the hell is Spandau doing in a rock website?" As we desperately listen out for a rock guitar to justify its existence, those of a certain age will have swooned and shagged to the band's soundtrack, not least 'True'. So back off, will you?
On balance, True (released in 1983) is probably the strongest of these two reissues if you combine the hit singles, bonus remixes and DVD footage. It's all of its time, of course, especially the Sadler's Well footage from May 1983 and several Top of the Pops appearances. There's also a making of 'True'.
Both these albums are a testimony to Gary Kemp's great songwriting and not least the production talents of Tony Swain and Steve Jolley. And on closer inspection the band were not quite as naff as they seemed, simply purveyors of superior pop. ***½
Parade, released in 1984 and the band's fourth album was the most consistent musically with some standout tracks in 'Only When You Leave', 'Highly Strung' and 'I'll Fly For You'. Here bolstered by bonus remixes and a Wembley Arena radio recording from December 1984 reflecting the band's zenith and effectively a greatest hits collection. ***
Of course fans will want both these handsome reissues which do the band's legacy proud. And the rock guitar? Well Gary lets rip a bit on 'Highly Strung' but essentially its Steve Norman's excellent sax that adds the unique flavour.
Review by David Randall
---
| | |
| --- | --- |
| | Print this page in printer-friendly format |
| | Tell a friend about this page |