SOULCAGE - Soul For Sale (2010)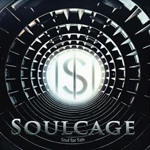 Soulcage are a band that hails from Finland and consists of Aleksi Parviainen on Vocals, Teppo Parviainen on Guitar, Markus Hellas on Keyboards, Ville Siuruainen on Drums and Jari Ilomaki on Bass.
Now having read the hype sent with this album I was looking forward to listening to it - comments like radio-friendly can be both good and bad but in this case I was pleasantly surprised. The lead singer Aleksi has a crisp clear voice remanicent of David Byron in the Heep early days and can certainly push out a good tune…
As for the rest of the band well what can I say but professional, almost soulful in they're approach to Rock..a combination that works from start to finish (No pun intended!!)
As to the tracks on the album, well the first half of the album is very good with melodic refreshing tracks like Flaming Flowers and Ride On, and some excellent punchy tracks in the later part of the album such as the truly brilliant 'Bleeding' and the fresh 'Origin'
I must admit that I am not to keen on the track 'Stranger in you' - a bit to commercial for my liking but it is redeemed by the strange but excellent 'You get so alone'. Then to finish the album they bring you the epic that is MIA - in my opinion the best track on the album.
So all in all would I go and see Soulcage, the answer is yes - not as Heavy as my normal stuff but they certainly can belt out a song or two and would be better live than in the studio.
Watch out for these as they aint finihed yet!!!!
****
Review by The Unforgiven
---